We already know that Samsung is working on a Virtual Reality headset for its Galaxy devices. Today, more information about the VR has surfaced in a new leak. SamMobile has posted some screenshots of the Gear VR manager app that will control the Samsung Gear VR.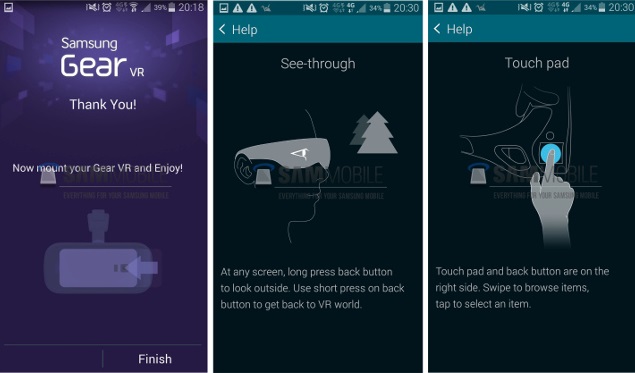 As per the photos, it looks the headset will feature Samsung's S-Voice software which will enable users to give voice commands by simply saying 'Hi Galaxy'. In addition there will be a VR Lock, which sets up a security lock at the time of wearing the headset. A warning alert is also included that alerts users every hour reminding him that he is in a virtual world.
After launching the app and signing an end user agreement, the Gear VR manager downloads a number of core features including VR Panorama and VR Cinema. This suggests that users will be able to check out panoramic photos with the Gear VR along with a cool movie experience. The report goes on saying that the headset purportedly sports a back button and touchpad for navigation.
Samsung is responsible for the hardware of The Gear VR while the software is being made jointly by Oculus VR and Oculus Rift. The trademark application, first spotted by Sam Mobile, was initially filed on June 12 and was published on June 16. Earlier this month there were reports that the Samsung Gear VR will launch at the IFA 2014.
Source: SamMobile