LG's G3, the company's latest flagship device, was announced on May 27th, with a quad HD display and laser autofocus touted as its USPs. The much awaited successor to G2 predictably packs bleeding edge specifications, in a bid to compete against other premium flagship devices like the Samsung Galaxy S5 and the HTC One M8. The device, with a 5.5″ display, still follows its predecessor when it comes to being sleeker than usual with a super thin bezel around an amazingly sharp display. Packed to the brim with most wanted features, with even a removable battery and a slot for micro SD cards, the G3 aims to be do-it-all this time, and has fewer compromises for a large set of people. We obviously couldn't wait for the Indian launch, so we went ahead and got one from our friends at Clove UK, and as with every device we get, here is a video to show you what the device looks like, fresh out of the box –
httpv://www.youtube.com/watch?v=CmZoWv-uLHQ
The UK variant we got comes with these box contents –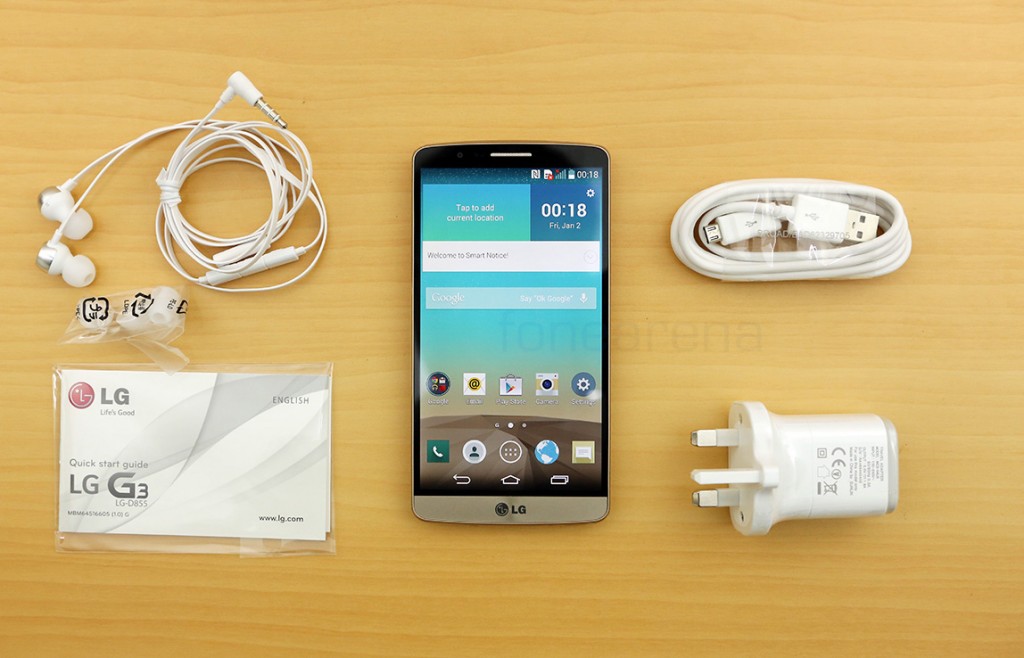 Box Contents
LG G3 in gold
Micro USB cable
Information manual
Three-pin plus for USB charger
Quadbeat 2 earphones with extra buds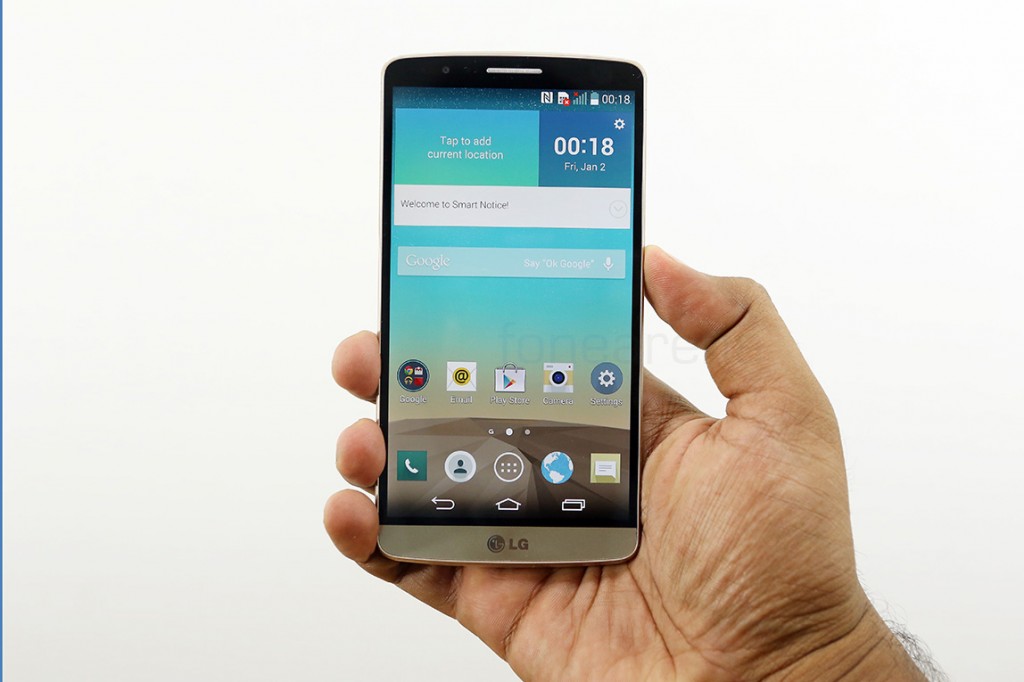 Coming to the device, the LG G3's weight, or lack thereof, is immediately apparent after taking it out of the box. This is primarily due to the plastic build this time, which has a faux metal texture, which also lends extra grip for the device. The main USP though, is the quad HD display, making it one of the first devices in the market to sport one. It looks amazingly sharp in person, but coming from a 1080p display, the difference is not that drastic.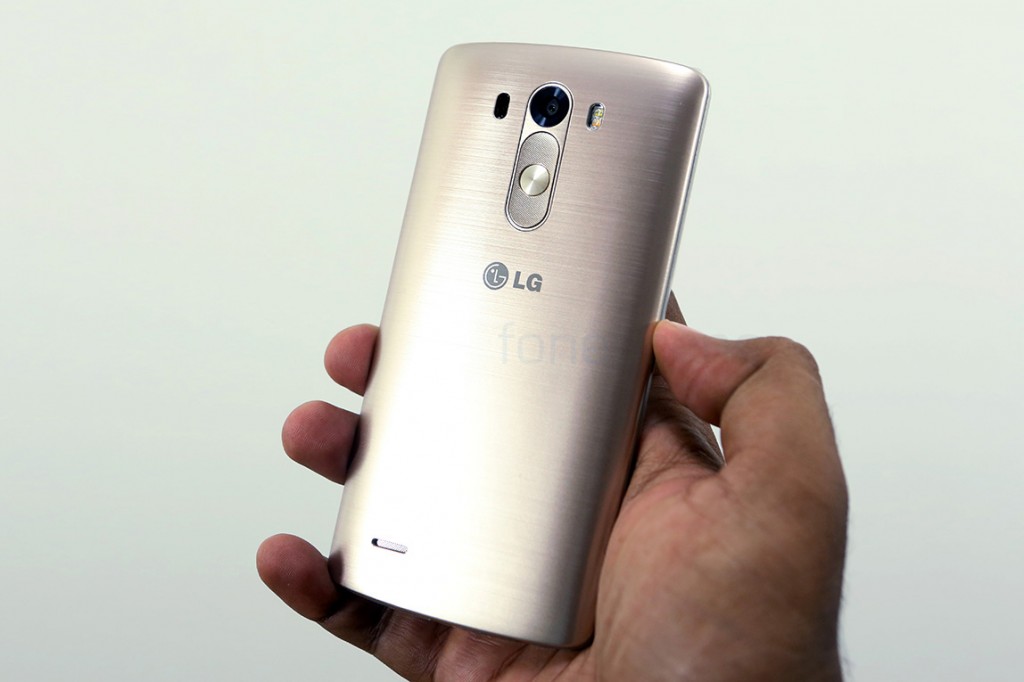 The back here has the other USP, which is the laser aufofocus assist that sits symmetrically opposite to the LED flash. This helps in focusing objects even in low light, which has traditionally been a weak point, even for pro point and shoots. Also present on the back is an amplified 1W output speaker, which outputs music rather loudly, without much distortion. Underneath, we have the Snapdragon 801 SoC, which powers the whole experience on the device, which should be interesting to test as this is one of the first times it is powering a quad HD screen. We'll be letting you know more about the G3 in the coming days and weeks, as we prepare for our review, but until then, here is another picture of the box contents –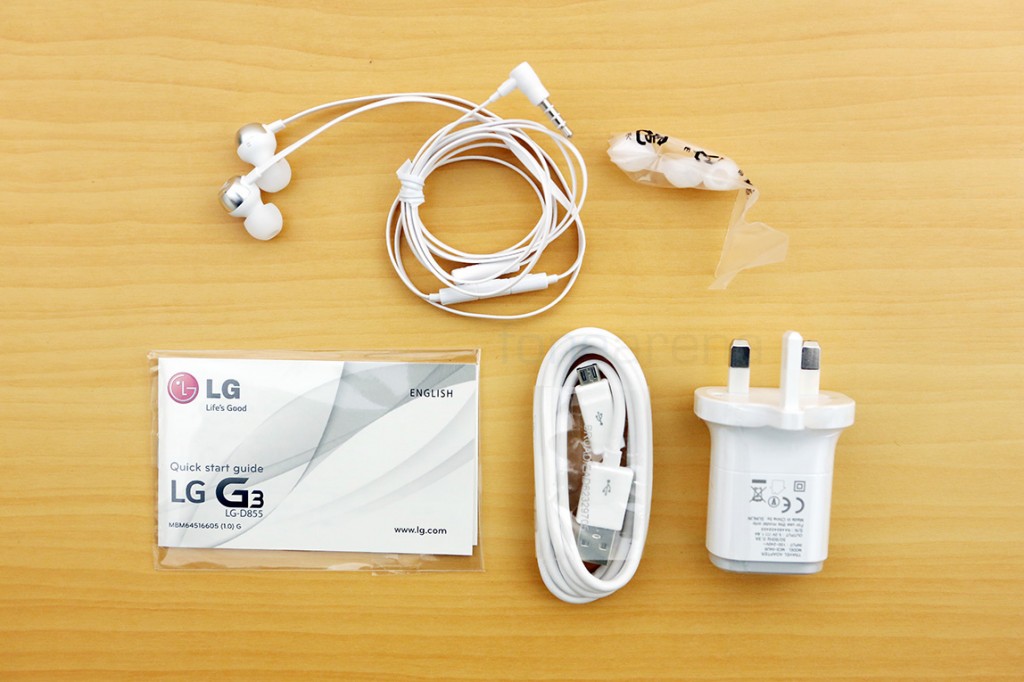 Do you have any questions about the G3, anything different you want us to address in the review? Do let us know in the comments section below and stay tuned for more.
Bharadwaj contributed to this article