Google added SMS integration to Hangout last year in October. The feature that was launched to encourage use of Hangouts allowed users to get their Hangouts instant-messages sent them over SMS in case they don't have an internet connection.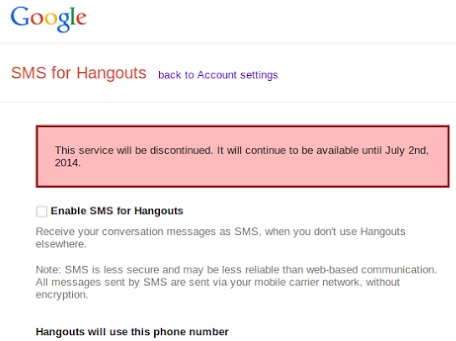 Users simply add their phone number to Hangouts in order to receive notifications. The feature is only available in countries with limited mobile data connectivity like India and Africa where internet penetration is still in nascent stage. An unofficial blog of news on Google dubbed as Google Operating System has claimed that SMS for Hangouts will shutdown on July 2.
As now Hangouts support SMS natively, Google might have decided to axe the service. Also, user still send and receive text and multimedia messages in the Hangouts app. It must be noted that Google has not officially confirmed this move however, 9to5 Google claims that a Google spokesperson has confirmed the killing of SMS for Hangouts.