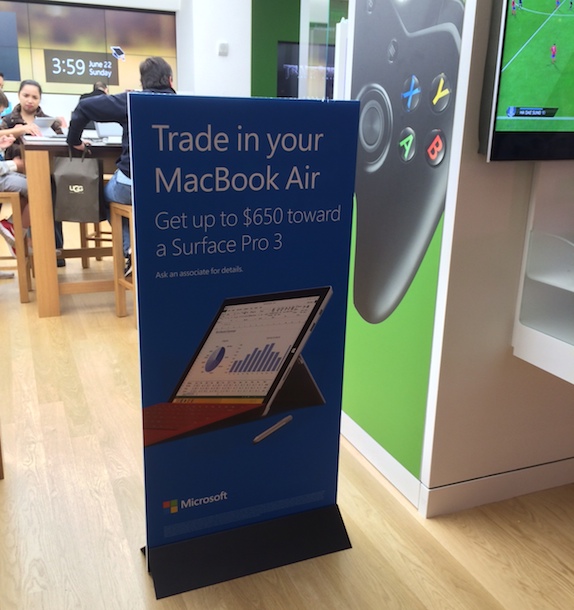 I was at the Microsoft Store in downtown San Francisco yesterday and store employees were readying a new sign at the entrance of the store. It read "Trade in your MacBook Air and get up to $650 toward a Surface Pro 3". Microsoft has been heavily comparing its latest Surface Pro 3 Tablet with the Apple Macbook Air and looks like Microsoft wants to send out a bold message. Microsoft has posted the terms for the offer and is valid only at the company owned retail stores.
The offer is valid from 6/20/2014 until 7/31/2014 and is applicable only in Microsoft retail stores in the US and Canada and not online. Macbook Airs must be in working condition and should not be water damaged and not have damaged screens. The maximum value of $650 is applicable for the latest generation of Macbook Airs and would be decided by the store reps at the time of the purchase of the Surface Pro 3.
The Surface Pro 3 is a great device from my experience so far with it. My only complaint is that when you are comparing your device with a Macbook Air which has a keyboard built-in , Microsoft should have included the price of the type cover in the pricing of the device itself and not force you to buy another accessory for it to be as functional as the Macbook Air.
Would you trade in your MacBook Air for a a Microsoft Surface Pro 3 ? Check out our unboxing of the Surface Pro 3.
httpv://www.youtube.com/watch?v=yUc95M6Z8zs