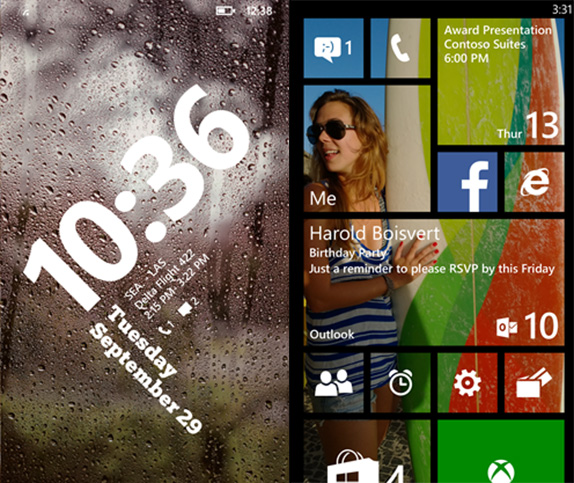 Microsoft has finally revealed Windows Phone 8.1, the long awaited update to its mobile platform. Packing lots and lots of new features, the operating system finally gets up to speed in several departments. Starting from the action center, the parallax wallpapers to Cortana, the intelligent digital assistant, it would be safe to say that the OS has finally come of age. It may be a little late, but it is definitely not a little minor update, as it brings with it the potential to change the ecosystem of devices it runs on. The update, announced today, will be available for all Windows Phone 8 devices in the coming months, while enthusiasts can get a hold of this update in the first half of April. Besides that, the OS will come pre-installed on all the new Windows Phone devices, including the just announced Nokia Lumia 930 and the Lumia 635 and the Lumia 630 Dual SIM phone.
Highlights of Windows Phone 8.1
Action center – Notifications center on Windows Phone, finally!
Cortana – Highly personal digital voice assistant
Start screen wallpapers – Parallax scrolling for the wallpapers
Lock screen themes – Make your own lock screen animations or use presets
Word Flow keyboard – Like Swype, but Microsoft claims it is faster
Skype integration to dialer
New default apps – Calendar, Xbox Music, Video and new Podcasts
People Hub can integrate with 3rd party apps
New type of e-mail accounts supported – including iCloud
New camera UI and gallery app
New utilities – WiFi sense, Storage sense and Battery saver
New enterprise features and a lot more
Mind you, these are only the highlights of the new operating system, because there is a whole lot of stuff that we haven't touched upon. But if you are looking for a visual demo of all those highlights, here is Microsoft's own Joe Belfiore demoing the new features –
httpv://www.youtube.com/watch?v=cAu0YgPnuXM
Windows Phone 8.1 definitely seems like a substantial update. In fact it feels massive compared to even Windows Phone 8, and makes us think if it is a bit late to the party. But again, the OS has finally come of age and is now poised to take on the competition with push from more OEMs than before. We will be posting more about Windows Phone 8.1 in the next few hours, so stay tuned to the blog and let us know what you think in the comments section below.