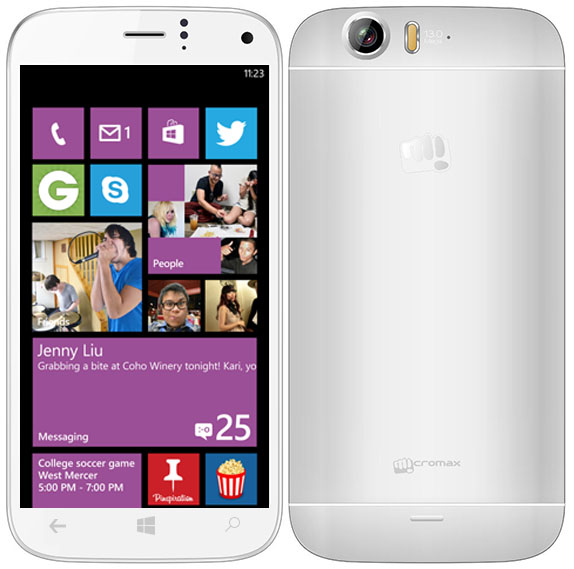 Micromax, one of the top smartphone players in the Indian market, was rumoured to get into the Windows Phone game for a long time. We had expected the name to pop up when Microsoft announced new partners in India like Xolo, Lava and Karbonn, but it didn't until now, when Microsoft revealed additional two partners, Micromax and Prestigio, at their Build 2014 keynote. Micromax now joins a big list of partners who are committed to bring Windows Phone 8.1 devices into the market. Bringing a seismic change of sorts to the ecosystem, the Windows Phone 8.1 update enables better hardware compatibility, with which a reference device from Qualcomm was developed. Adding on-screen button support and increased chipset compatibility has enabled players like Micromax to join the Windows Phone ecosystem.
Today we announced two more partners – Prestigio in Europe and Micromax in India – to further ensure that individuals around the world will have access to the amazing experience that only Windows Phone delivers consistently across all price points.
Microsoft's Joe Belfiore showed off a Micromax device, on stage, at the Build keynote, in which he said that the new partnership is a result of the reference device development with Qualcomm and a ODM manufacturer in China. This is exactly following the model of Android hardware development, which Microsoft has tried to mimic. The strict chassis requirement days are over, and it looks like even the licensing days are over, as Microsoft has made Windows free for any device under 9 inches of screen real estate. This might prompt many more tablets and phones to come out in quick succession, as chips like the efficient quad core Snapdragon 400 become the norm.
Anyway, Micromax will be joining Nokia, Samsung, HTC, Xolo, Lava and Karbonn in bringing Windows Phone devices to the Indian market. Will this change the game here?