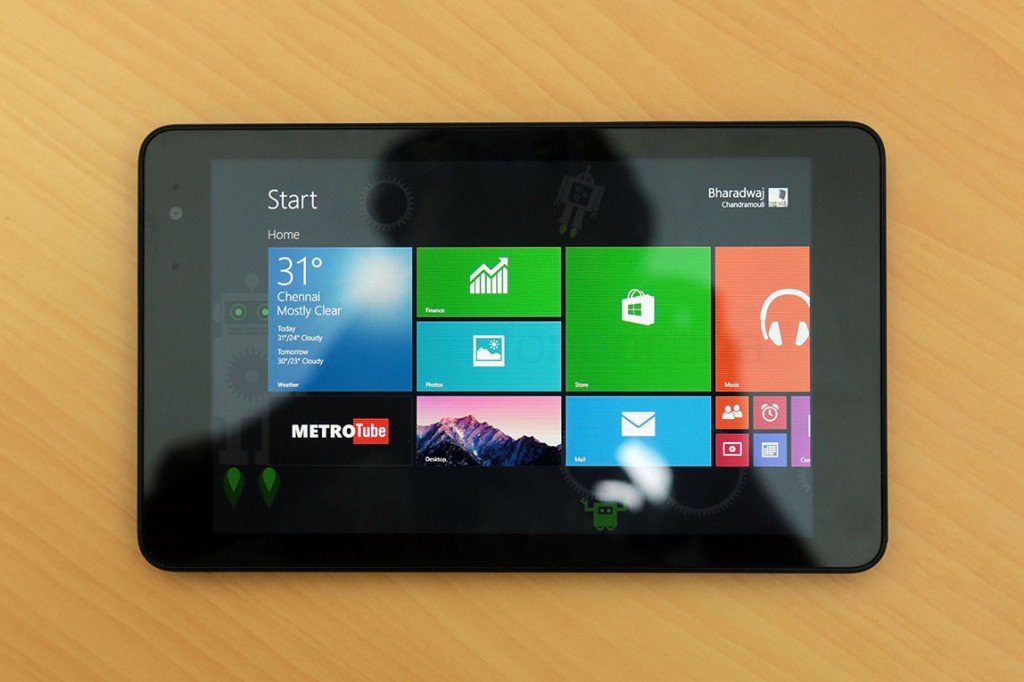 The Dell Venue 8 Pro, a 8 inch Windows 8.1 tablet that we reviewed earlier, has been officially launched in India by Dell for a price of Rs. 26,499 for the base 32 GB WiFi model. Powered by the Intel Atom Z3740D Bay Trail Quad Core processor running at 1.8 GHz, the Venue 8 Pro offers the full Windows experience, with surprisingly decent gaming performance to boot. One of the thinnest Windows tablets around, the Venue 8 Pro joins the Acer Iconia W4 in its foray into the increasingly crowded small tablet market, with the added advantage of a full fledged desktop operating system, made easier for touch.
Check out our in-depth Dell Venue 8 Pro Review
To quote our thoughts from our review regarding this tablet –
The Dell Venue 8 Pro not only stands tall among the latest range of mini Windows tablets, it pretty much rivals the iPad mini too, which comes at the same price for a similarly spec'd version. It also provides better value for the higher price it commands over its Android counterparts, including the Dell Venue 8. Even if the Lumia 2020 and Surface mini are just on the verge of launch, the Dell Venue 8 Pro still provides enough value with its full Windows 8 bits.

It has a great display, good build quality, blazing fast performance and a long lasting battery life. However, one has to put up with the inconsistencies in software, the lower resolution display and the lacking, yet growing number of apps. It should be great for media consumption and general usage though. Windows 8.1 has improved a lot and has made tablets like these more usable than ever, so if you are looking at trying out a small Windows tablet, the Dell venue 8 Pro seems like the best option out there, especially since it is now available with great discounts.
We think the Dell Venue 8 Pro is a neat little tablet, only held back by small disadvantages like the lack of micro HDMI and a low resolution screen. On a side note, the Dell Venue 11 Pro too has been announced, but we have not been made aware of the availability yet, which is termed as "to be announced". We will let you know once the dates go up, but until then, don't forget to check out the full review of the Dell Venue 8 Pro here, and let us know what you think, in the comments section below.