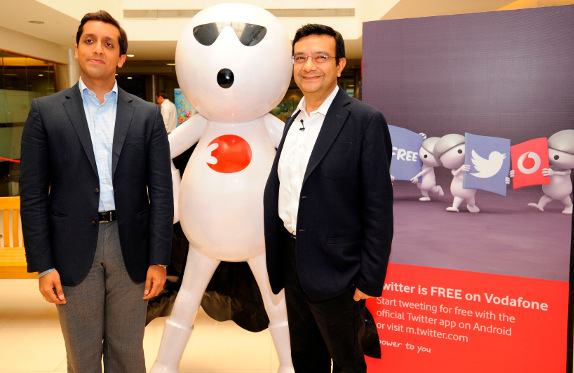 Vodafone India has partnered with Twitter India to offer access to Twitter for Android app and mobile.twitter.com free of any mobile charges for three months without any data pack. Twitter will promote the 'no mobile internet charges' experience on Vodafone by clearly prompting and informing the customer on the applicable charges, especially when they are accessing links via their Twitter timeline and elsewhere on Twitter's network.
Airtel offered free Twitter access for their customers back in 2011 and Reliance launched a similar offer in partnership with Twitter India earlier this year.
Regarding the partnership, Vivek Mathur, Chief Commercial Officer, Vodafone India said,
Vodafone India has always been at the forefront of providing innovative and user friendly mobile internet experience for its customers in India. Our partnership with Twitter and this offering is yet another step in our ongoing endeavour to make mobile internet more fun, smart, engaging and easy.
Rishi Jaitly, the Market Director for Twitter India, said,
As a real-time information network full of links, media, and content, our platform offers the mobile ecosystem novel ways to introduce their subscribers to all the Internet has to offer. We are pleased to partner with Vodafone India to offer its subscribers a unique opportunity to use Twitter to follow the people and organizations they care about.
The Free offer without any data charges applicable on mobile.twitter.com and Twitter for Android App. All links will be charged as per applicalbe rates. This offer is available for a 90 day period.