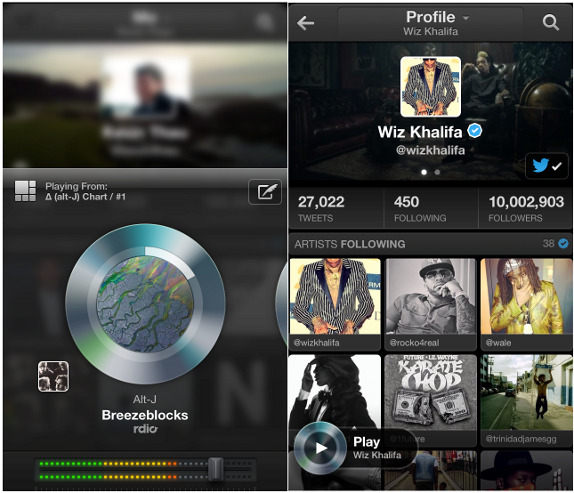 Twitter has launched the Twitter #music service and the iPhone app that offers music from iTunes, Spotify or Rdio. This service uses Twitter activity, including Tweets and engagement, to detect and surface the most popular tracks and emerging artists. You can search for an artist, visit the artist's page, follow them on twitter, listen to their songs, view artists they follow and also tweet the songs from the app.
Features of Twitter music for iPhone
Twitter charts – The most popular new music and emerging talent on Twitter right now.
Follow artists – Follow your favorite artists and see which artists they follow.
Tweet songs right from the app
Previews from iTunes in the app
Option to play full tracks for Rdio and Spotify subcribers
Twitter #music is now available for iPhone from the Apple iTunes store. The web version would be available later today from music.twitter.com. It is available in select countries including US, Canada, the UK, Ireland, Australia and New Zealand. Twitter promises an Android application soon. This service would be expanded to more countries soon.