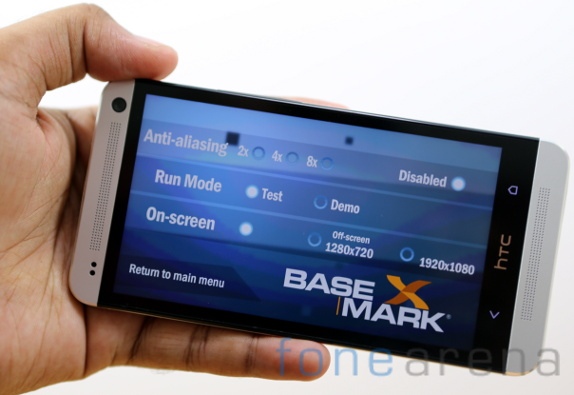 Rightware launched the Basemark X, a cross-platform benchmarking tool for Android, iPhone and iPad last week. While the iOS app is still waiting for the approval in the Apple iTunes Store, the Android application is out now. The Basemark X is built on gaming engine Unity 4, which is used in hundreds of mobile games. We managed to run the Basemark 1.0 on several high-end quad-core Android smartphones. Check out the Basemark X 1.0 Game Graphics Performance Test results below.
Basemark X HD (1080p) (On-screen)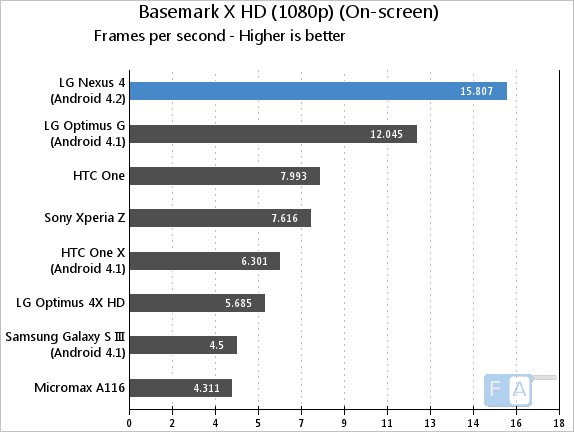 Here the GPU is being tested at 1920 x 1080 resolution. Since the Nexus 4 has a 4.7-inch (1280 x 768 pixels) screen and is powered by a 1.5 GHz Qualcomm Snapdragon S4 Pro CPU with Adreno 320 GPU. The LG Optimus G which has similar features is right behind the Nexus 4. The HTC One which has a 4.7-inch (1920 x 1080 pixels) Full HD display and powered by a 1.7 GHz quad-core Qualcomm Snapdragon 600 processor with enhanced Adreno 320 GPU grabs the 3rd spot. The HTC One tops other benchmarks easily.
Basemark X HD (1080p) (Off-screen)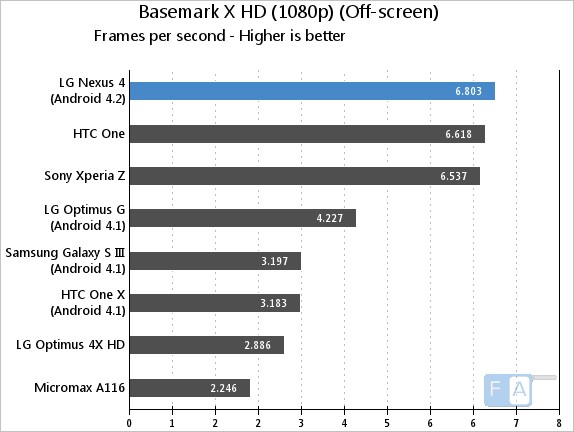 The Nexus 4 tops the Basemark X Off-screen benchmark, but the HTC One is right behind it, pushing the Optimus G back. The Micromax A116, which has a HD display and a PowerVR SGX544 GPU is at the last place.
The free version for Android has a default 1080p resolution, but the Basemark X Professional has option to enable antialiasing, ability to change the resolution and also get the project source files from the settings.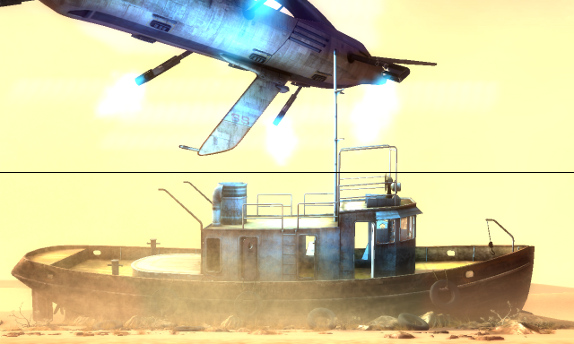 Antialiasing reduces the jagged edges in the rendered image and also improves the detailing. The image above shows the difference, the top half with antialiasing turned off which is blurred, and the bottom part with 8x multisampling antialiasing has better details. This might differ based on the GPU.
You can get the Basemark X for Android devices from the Google Play Store for free.