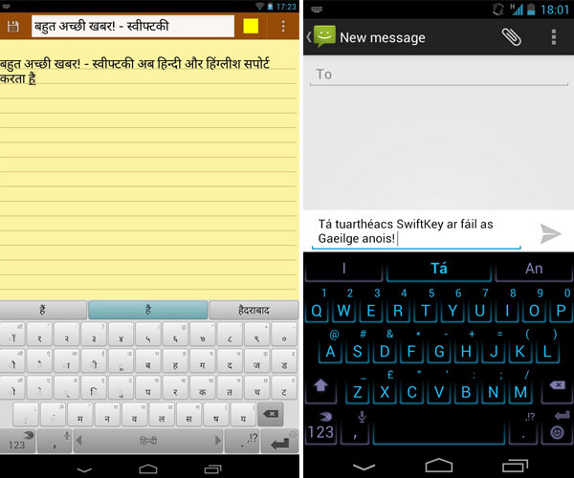 SwiftKey keyboard for Android has been updated to version 3.1 that brings support for new languages including Hindi and Hinglish (hybrid of Hindi and English), new Berry theme and more. SwiftKey now includes support for 54 different languages. Nuance introduced introduced support for Hinglish keyboard in Swype for Android earlier this year. SwiftKey is also offering both the SwiftKey 3.1 for Android Phones and Tablets at a 50% discount for a limited period, just like last year.
New features in SwiftKey 3.1
New Berry theme
New languages: Armenian, Azerbaijani, Georgian, Hindi, Hinglish, Irish, Macedonian, Spanish (Latin America) and Tagalog
Split keyboard for normal-sized devices
Improved language pack downloads
Improvements in key layouts on some keyboards
Fixes for some force close issues
Download SwiftKey 3 for Android Phones and Tablets for $1.99 for a week after that it'll be $3.99.