Home » 3G, MWC 2012, News
Option launches XYFI, world's smallest 3G and WiFi Personal Hotspot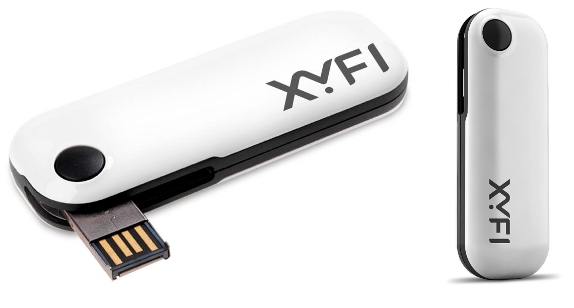 Option, a global leader in wireless connectivity, security and experience has launched XYFI with integrated 3G, WiFi and hotspot connectivity that they claim as the world's smallest hotspot . It enables up to 8 simultaneous connections, so users can connect their WiFi devices and invite others to share their broadband connection easily and securely. XYFI also connects to WiFi that lets the users to use it as a hub to connectivity and providing carriers with significant WiFi offload benefits. XYFI is powered via USB connection so there is no need of external power supply.
Features of XYFI
World's smallest WLAN/3G router
Network offloading – switches between 3G and WLAN as required
Dual mode WiFi for simultaneous Hotspot access
Simply secure out of the box WPA encryption with WPS
File sharing microSD
Optional high capacity battery pack and AC adapter
Driverless operation
Customizable clip-on covers
microSD slot
Retractable USB connector
XYFI comes with smart interfaces and can be easily managed from an intuitive web-based GUI and dedicated mobile pages. It has integrated microSD memory card slot and streaming capabilities allow users to share media and files.
They have partnered with XPAL to bring 4,000mAh charging unit that would offer 8.5 hours data service on HSPA+. No carrier partners have been announced yet, but it is expected to available in the US in coming weeks.