Home » Android, HTC, USA, Verizon
HTC making a phone especially for ladies, headed to Verizon?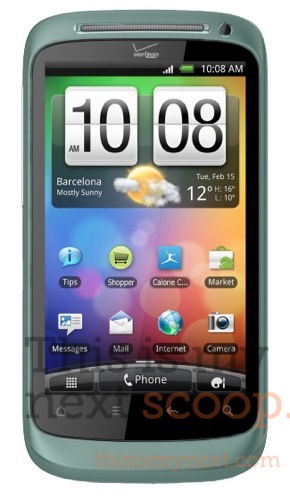 There are number of different kind of smartphones available in market, and guys can pick almost any type of phone that suits their style, but what about ladies? Well, some mobile phone companies are offering phones especially for ladies, but they are very few in numbers. Like if you remember the Micromax Bling and Alcatel ICE3, they are also ladies phones. Now rumors are on the street that HTC is making a phone especially for ladies. This is my next is reporting that HTC is working on a ladies phone which will hit Verizon Wireless  and its codename is Bliss. As you can see the mock-up above, the color will be between forest green and sea green, and the back cover will be made up of rubber material for a better grip, because ladies love dropping phones, right?
The device will be Android powered and it will feature some special stuff for ladies. It will feature apps like calorie counting and shopping apps, because we all know that ladies can't live without shopping. Talking about the amazing feature of the device, which is the Charm indicator. Users can attach it with the phone and it notifies users when a new message or missed call comes in by lighting up. The wireless charging dock will feature built-in speakers and it will automatically enable alarm mode when the user put the mobile on charging, and also there are matching Bluetooth headsets and a square-shaped speakers which can easily connected with car visor and it supports voice recognition.
Well ladies, that's all we know about the device and it's expected that it will hit Verizon later this year. So if you want a phone especially for you, then you better wait because HTC is making one for you. I am sure it will hit other countries as well. So tell us, are you going to get one later this year?