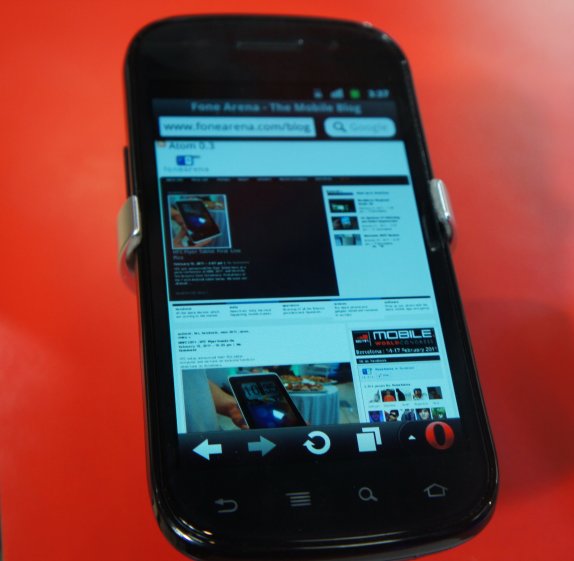 Online retailer FlipKart has started taking Pre-orders for the Google Nexus S made by Samsung. The asking price for the device is Rs.27999 which is higher than the current price of the Galaxy S i9000.The Nexus S is currently the only Android phone in the market that comes with stock Gingerbread (Android 2.3) . The expected launch date is April 1st week.
(Picture:Google Nexus S at Opera booth at MWC)
The handset is pretty attractive in terms of looks and the curved glass display is pretty nice too. Although the handset is pretty fast, there have been mixed reactions from users about the battery life of the device with some stocking up on a  spare battery.
The India launch of the Nexus S has been making noise for quite sometime now and we are surprised about this piece of news when the world is waiting for the Galaxy S2 from Samsung.  We do not know if this is going to be just a temporary measure till the Galaxy S2 is ready to hit stores or there are plenty of unsold units. India never got the Nexus One so the Nexus S is surely welcome. We are not sure if Samsung managed to get Google's seal of approval for the launch in India. April 1st week is not far away ,  so we should be finding out soon.
So which one of you is going to buy the Nexus S in India ?