Home » Android, Handsets, Motorola, Rumors
Motorola WX445 Android Phone Leaked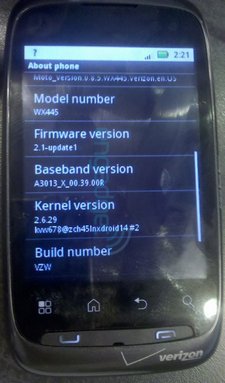 This phone that you see in the picture is supposedly the Motorola codename WX445. It is said to be an entry level Android device for the masses.
The phone's design looks quite similar to the Nokia C7 that was leaked earlier. The phone will be released with at least Android 2.1 pre-loaded as shown in the picture. It will not have a flash for the camera.
It will be launched on the Verizon Wireless network in the USA. Another version of the same model under a different name is likely to be launched worldwide later on.
via EuroDroid