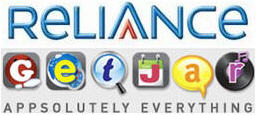 Reliance has got into an strategic alliance with with GetJar, the popular mobile application store.
Under this alliance, all 100 Million Reliance subscribers gets to access all the 65,000 free apps present at GetJar.
This will be carried out via a special GetJar apps store on Reliance's premier VAS Platform, R-World. And the App Store will contains a various genres of applications ranging from games, social networking, sports, entertainment and productivity applications.
There will be no charges on the application download and its use, however there will be a data charge of 50 paise/MB from Reliance.
"We wanted to partner with the largest, most experienced, "open" application catalog provider to address virtually any device being used by our customers," said Mr. Anil Pande, Head – VAS, Reliance Communications, "Our partnership with GetJar means that all Reliance Communications customers will instantly have access to thousands of applications ranging from games, shopping and lifestyle applications to sports, entertainment and productivity applications."
"Our agreement with Reliance Communications allows it to immediately connect its customers with over 65,000 free applications with very little effort," said Ilja Laurs, founder and CEO of GetJar. "It made a great deal of sense to partner with India's largest integrated communication service provider as GetJar is also the fourth most visited mobile site in India. We are very excited to offer our catalog of free applications through Reliance Communications' R-World platform."
I kind of liked this strategy from Reliance. First you get them addicted to apps and then charge for only the mobile internet usage. With mass usage of apps will come mass usage of data traffic and thereby adoption of bigger data plans by customers.