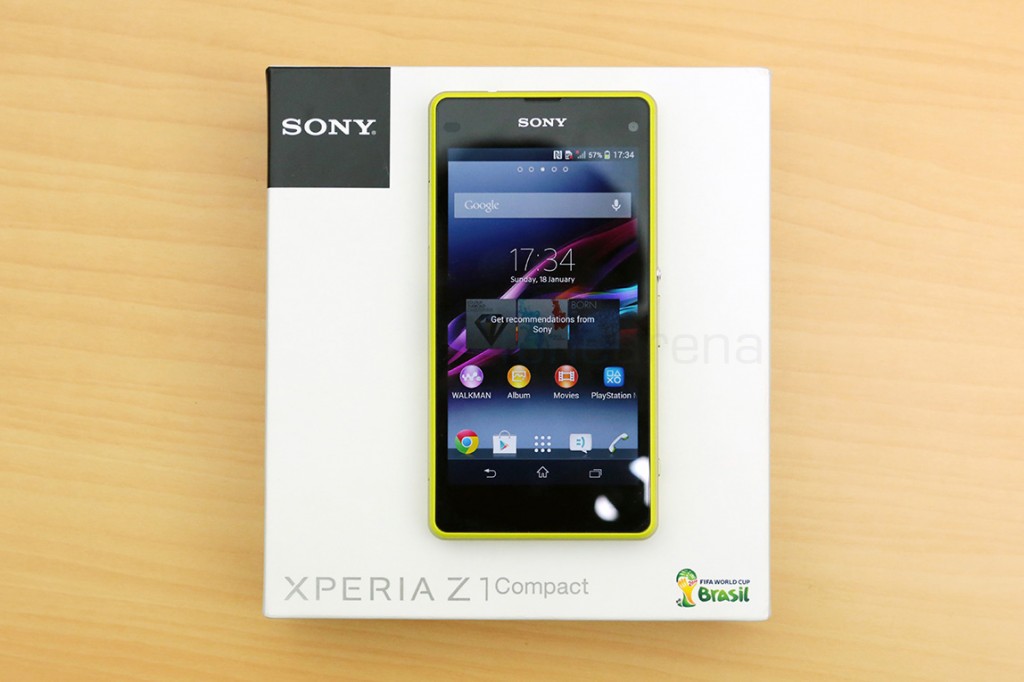 Sony launched the Xperia Z1 Compact, as the "mini" variant of its flagship device, the Xperia Z1 sometime back. It was the Z1f(launched in Japan) for the world and was almost immediately heralded as the best compact Android device yet. Samsung and other companies like HTC have been playing the "mini" game for a generation or two, in which they would release a device that is identical to the flagship, but saddled by poorer specifications and obvious cost cutting, but Sony has done the inevitable, a smaller flagship, with deservedly flagship level specifications and a worthy competitor to the Apple iPhone, which still remains the only small-ish flagship product in the world. In a world of 6 inch phablets, how does the little one fare? Before we let you know that in our review, here is the customary unboxing video –
httpv://www.youtube.com/watch?v=kL7flC_kTr8
While the box is nothing special, the box packs a USB OTG cable, which is something we don't usually see on other boxes. Here are all the contents laid out, in individual pics –
Box contents
Sony Xperia Z1 Compact in Lime
Screen guard
Micro USB cable
USB OTG cable
White in ear headset
USB charging plug
Information booklets and manuals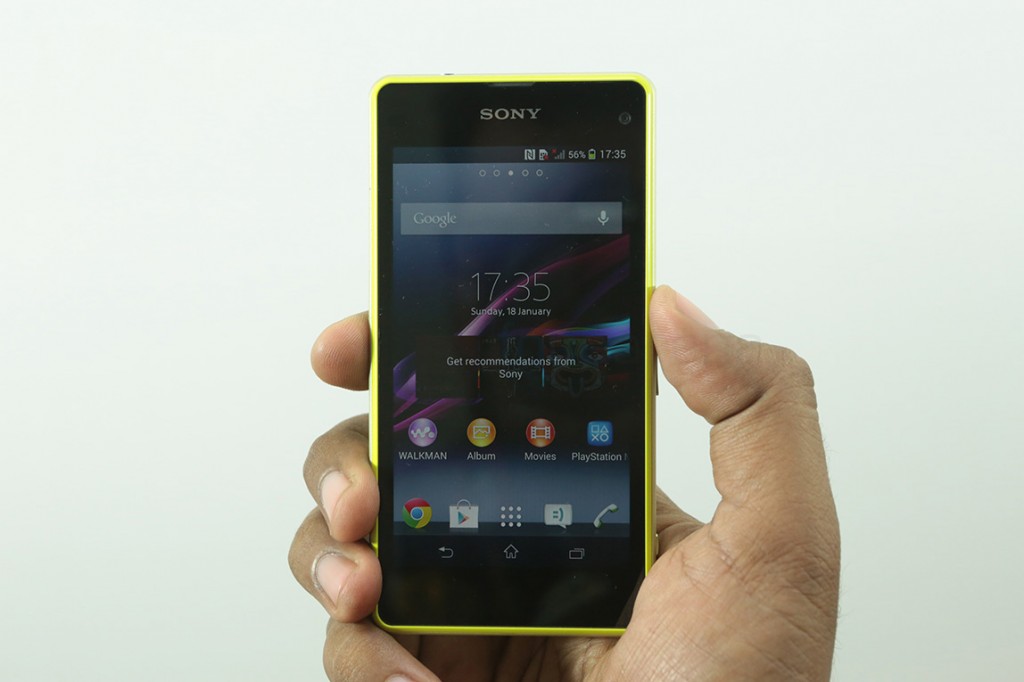 Immediately after taking the phone out of the box, one can never escape the fact that it is a small phone. While a 4.3″ device might not have been considered small 4 years ago, we are at a stage where 6 inch screens are acceptable, so 4.3″ feels a lot smaller. The display, which was one of the biggest pain points in the Xperia Z1, is actually quite great on the Z1 compact, a reversal of things from Sony. The display is really good and has great viewing angles and colour reproduction(with White Balance controls) but it does feel dim in brightly lit conditions, dimmer than most other phones.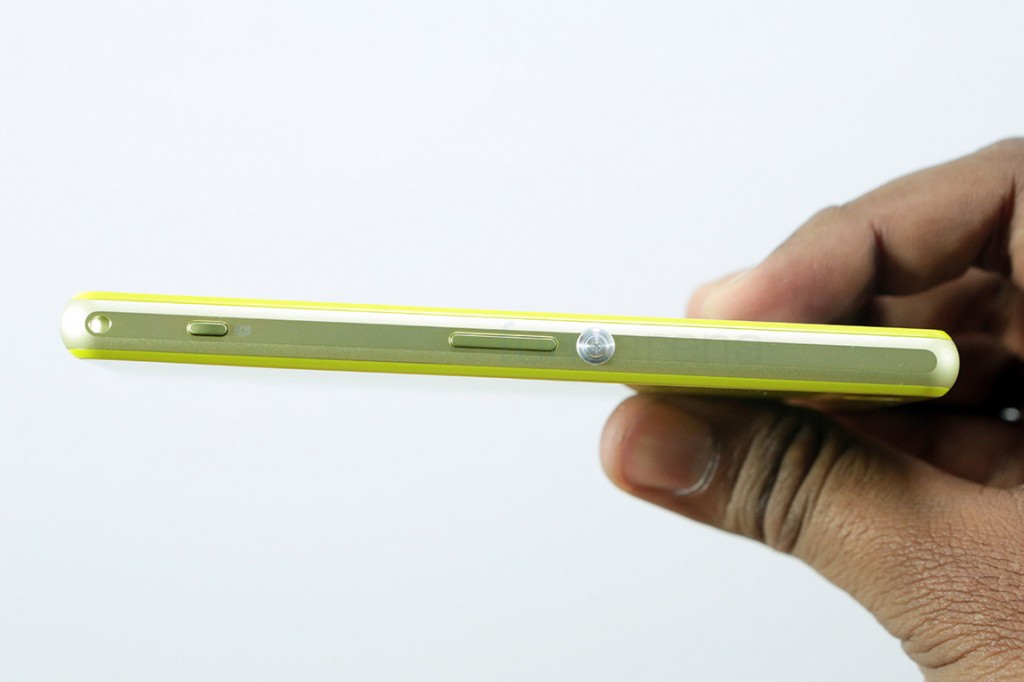 Next thing you will notice is how "blocky" the phone is, in terms of design as well as actual heft. To pack the amount of hardware into a smaller form factor is a challenge that Sony has undertaken with courage, but a small compromise would be the thickness, which is no where near fat, but it is not the slimmest either. A decent compromise, we guess.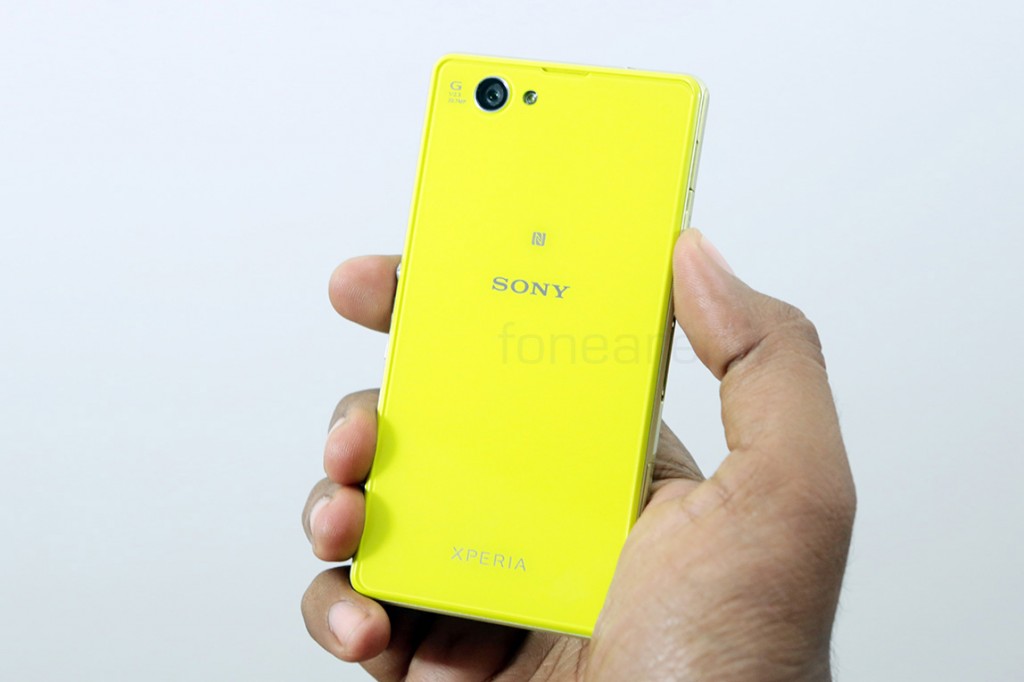 The Lime coloured Sony Xperia Z1 Compact looks splendid. With the same design language as the Z1, the glass back and front, the slightly lime coloured sides made of aluminium give a reassuring feel of a premium build. It also packs the same internals as the Z1, with a Snapdragon 800 processor and a 20.7 megapixel camera. Yes, it's the same one. However, the battery is a 2300 mAH unit, owing to the smaller size of the unit and limited space inside. But we think the 720p screen and the resourceful Snapdragon 800 processor should help it go through a day easily.
That said, we are really impressed with what Sony has done with the Xperia Z1 compact here. Easily the best "mini" devices out there, no compromises on performance and truly a deserved flagship device for people who don't want a big phone. We will be bringing you a lot more coverage soon, so stay tuned for that, but do let us know what you think in the comments section below. Check later for a photo gallery of this device.