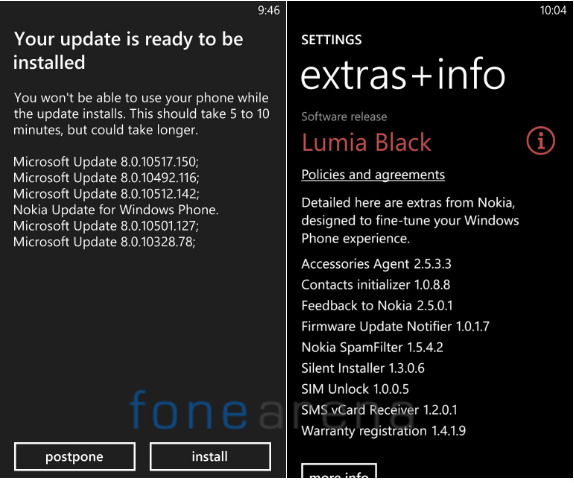 Nokia has started pushing out the Lumia Black update in a staged roll out across the globe. The first devices to get the update include AT&T Lumia 1020s. The update is a combination of enhancements brought by the Windows Phone 8 Update 3 and Nokia's customizations.
The update is for the Nokia Lumia 1020 and 1520 and brings with it several improvements including:
Accessibility: Several improvements have been made for users who are visually impaired.
Storage. Now you can easily free up storage space on your phone and manage temporary files. New categories show what's taking up space.
Driving Mode. Driving Mode allows you to minimize incoming calls and text messages to help you focus on the road.
Screen. You can now lock your screen orientation so it doesn't shift when you move your phone around.
Wi-Fi. It is now possible to set up your WiFi connection before going through the start up process.
Internet sharing. Now you can use your phone's cellular data connection from your Microsoft Windows 8.1 devices by pairing them over Bluetooth.
Bluetooth. Several fixes were made to address known issues, and improvements were made to connection quality for Bluetooth accessories.
Ringtones. Assign ringtones for text messages, so you'll know who's texting you without even looking. Use your custom ringtones for more things—text messages, instant messages, emails, voicemail, and reminders.
App switcher. Now you can use the App switcher to quickly close apps when you're finished with them.
On the Nokia side of things, there are some very welcome customizations to the operating system. These include an enhanced glance screen, support for Bluetooth Low Energy profile to facilitate accessories like Heart Rate Monitors. You also get additional lock screen settings. The complete changelog is embedded below.
Enhanced Glance Screen: the Lumia Glance Screen now displays all important notifications such as new emails, missed calls, text messages and more – even when the screen is dark. Icons will appear beneath the digital clock, which is currently offered as a feature of the Glance Screen.
Bluetooth Low Energy support: Bluetooth Low Energy (BTLE) allows users to easily sync accessories such as heart rate monitors with their Nokia Lumia to create differentiated experiences with apps.
Lock Screen Options: Users can opt for either portrait or landscape mode to accommodate even greater customization and personalization.
You can check for the update by heading over into settings on your phone. From there tap Phone Update, Check for Updates.