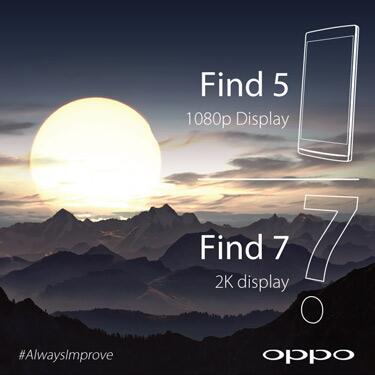 Oppo, the company behind awesome products like the Find 5 and N1, has just teased an upcoming feature of its yet-to-be-released Oppo Find 7. The company just confirmed that the Find 7 will sport a 2K display, which makes it one of the world's first devices with a display of such resolution. Oppo seems to be taking the next logical step in displays on smartphones and their ever increasing pixel density. The Oppo Find 5 was one of the first devices to pack a 1080p display and it looks like the Find 7 will be one of the first with a 2K display, which is unique positioning for their new flagship, we think. It has been more than a year since the Find 5 was officially announced. It was showcased at the Consumer Electronics Show & MWC last year and only then were we able to marvel at the 1080p display of the Find 5. We hope that's the same case for the Oppo Find 7.
The company hasn't revealed much, but much like its earlier product releases, the teasers on social media are now in full swing. This is the tweet they made on Twitter that features the picture above –
[HTML1]
The Find 7 is expected to be revealed soon, at least within this year, with top end specifications. Going back to the announcement last year, the Find 5 was way ahead of its time, and this time, it looks like the Find 7 will be too. Coming to specifications, we do hope the display size remains at 5 inches, with Snapdragon 800 for the innards and possibly a 20.7 MP camera and more. If the Find 5's release was any indication, we'd say we are right on the money. But the main question here is, how good will the Find 7's display be? Oppo had already created one of the best displays with the Find 5, which already tops out at around 441 PPI, but with 2K resolution, it will be even more dense. Will we be able to see the difference?
The race for 2K displays on Smartphones is inevitable. The resolution, which comes at 2560×1600(also known as 1600p) is higher than the normal HDTV and equal to most high end monitors with the same resolution. That's something ridiculous for a device in your pockets, but as we had repeatedly seen, the industry moves forward with evolutionary specifications whether we like it or not. But hey, at least Oppo is now confirmed to be one of the many companies that will eventually go for a 2K display on their smartphones. What do you think of this development though? Excited? Let us know in the comments section below.