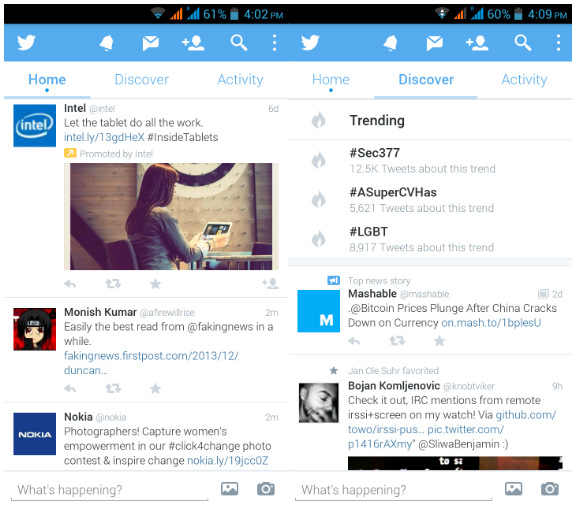 Twitter for Android has been updated to version 5.0.5 that brings a new design and lots of new features. This design is quite different from the v5.0 Beta that was released back in September. The new design brings a new tab in the navigation bar that lets you access DMs, view notification, search and go to settings. This update also lets you share and view photos via direct message (DM) on your Android phone. Twitter for iPhone also got updated today that brought new features.
New swipe gesture lets you move from Home timeline to the Discover and Activities timelines. The new update also lets you enable mobile notifications for specific users by tapping the star on their profile. Twitter for Android got updated to version 5.0 last month that brought new Search filters, Trending Timeline and more new features.
New features in Twitter for Android v5.0.5

New design.
Refreshed look and feel. Home, Activity and Discover now available by swiping in Timelines. Easier access to DMs.
Share photos in Direct Messages.
Send and receive photos via DMs.
Notifications from your network.
Choose to view Replies, Retweets, and Favorites from only the people that you follow.
Receive Push Notifications from the people you care about most.
Favorite their profile to receive a Push Notification any time they tweet.
Download Twitter (Free) – Android