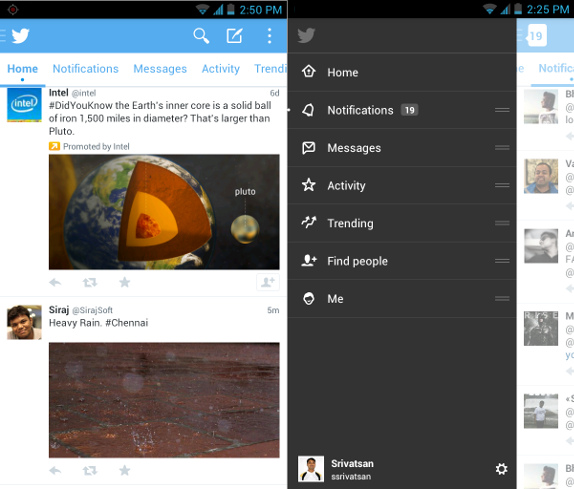 Twitter introduced a closed beta at the end of August, now the app has received a major update that brings a completely new UI with separate tabs for Home, Notifications, Messages, Activity, Trending, Find People and Me. You can swipe to switch between these apps. There is also a Navigation menu for these with notification count that could be re-organized. It uses your Twitter background image as the background for this menu. These is also in-line image previews that could be disabled from the settings.
Twitter got a major update back in April that brought HOLO UI, now the new beta version with a UI refresh has been released in few months of time. The widget is still the same and the app is not optimized for tablets. Since the beta version is out the final version might not be far away. Since Twitter is updating the iOS app simultaneously, it might also get a new UI once the final app is available.
Looks like Twitter closed the option to join the Google Group to try out the beta app. Anyway, you can grab the APK (via Android Police) and side-load it to try out the updated Twitter app.