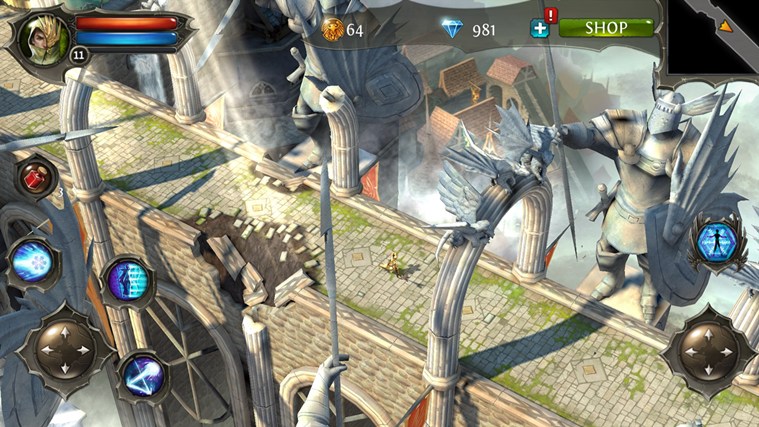 Dungeon Hunter, a Diablo inspired dungeon crawler role-playing game, is now available for Windows 8 and Windows Phone 8 as a free download. This game, and its previous iterations have been available for Android and iOS devices for a while now, and a part of a deal struck between Gameloft and Microsoft, a set of games that includes Asphalt 8 and now this one, has landed on the Windows 8 and Windows Phone 8 Stores respectively. This game is basically a top down 3D dungeon crawler in which you go around killing and collecting stuff to march through the story and in the end improve your character with powers and things.
The app's description like –
Venture forth into the most immersive, accomplished, and addictive chapter of the acclaimed action RPG saga!

***** REDISCOVER THE THRILL OF DUNGEON CRAWLING
– Progress through an EPIC STORYLINE & stunning environments
– SLASH hundreds of enemies and massive bosses
– LOOT countless items

***** EXPERIENCE A TRUE RPG
– Choose from 4 Character Classes with unique combat styles
– UPGRADE your battle skills
– CUSTOMIZE, craft and charm your gear
– Unveil the mysteries surrounding your warrior

***** GO FOR MULTIPLAYER ACTION
– Enter Co-op arenas for highly intense fights
– Show off your battle skills in the PvP modes!

The Demons, a race thought to have been extinguished eons ago, have returned. You awaken from what seemed like a nightmare to find your kingdom, Valenthia, decimated. Unharmed from the battle, you are mysteriously gifted with tremendous new power and skills. You could be your people's only remaining hope…
From the app's description it's pretty clear that this is based on the freemium model where in-app purchases vie for your precious currency. This model has been the trend so far in many of the recent games for all the publishers, and it seems to be the go-to model in mobile especially. We are not fans of it, but considering it offers some decent functionality out of the box with a free download, the barrier to entry is low, and in the end, it's always up to the gamers to proceed with IAPs or not. Anyway, if you have a Windows Phone or a Windows PC/Tablet with you, try this game out and let us know what you think, we'll be taking a look too.