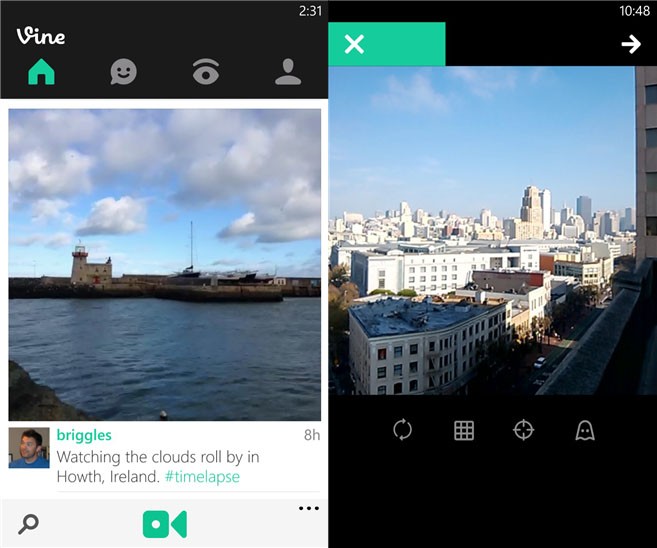 Vine, the highly popular video-based social network, finally has made available its app for the Windows Phone platform. Announced back at the Build conference, the app was shown off recently at the Lumia 1520 and 2520 launch event by Nokia, and it was promised that the app will be arriving soon to the platform, someday. Well, that day is today, and the app is finally live on the Windows Phone Store.
Download Vine for Windows Phone here
The app is a social network in itself and was acquired by Twitter right before it launched its way into pop culture. The creative community soon built a massive following and a lot of Vine videos started going viral. The popularity might have faded a little once Instagram announced its own implementation, but the Vine community is still thriving and it is finally about to get a little bit of boost thanks to Windows Phone now being officially supported. Well, to be fair, Vine was already there on Windows Phone through a third party app called 6Sec which, with its beautiful interface and full fledged functionality already made Vine a breeze to use on the platform, but with the official support, it will hopefully gain more traction with all of the users who managed to skip on 6sec.
The app's description reads –
Vine is the best way to see and share life in motion. Create short, beautiful, looping videos in a simple and fun way for your friends and family to see.

• Free, unlimited uploads
• Instantly post videos on Vine, then share to Twitter and Facebook!
• Find, follow, and interact with people close to you
• Explore trending posts, featured hashtags and editor's picks
• Pin favorite Vine accounts and channels to your home screen
• Connect to Vine from within camera mode
• Pin the Vine camera to your home screen and launch with one tap
As you can see above, the Windows Phone version has its own special OS specific features such as Pinning accounts and channels to the homescreen, and in-built camera lens support for a quick shortcut from the default camera UI, and even a deep linked shortcut for launching the Vine view finder right from the start screen for faster access to recording your Vines. These features are unique and exclusive to Windows Phone and it's nice to see them implement it before launch. We are hoping the app is great to use, just like 6Sec. Now to wait for the official Instagram app.