HTC announced their flagship HTC One way back in February, but even now, it is the phone to beat in terms of design and build quality in the Android eco-system. The HTC One is easily the best built and good looking Android smartphone till date and HTC have widened the One lineup with a One Mini, which is a smaller version of the flagship and the One Max, which is a bigger version of HTC One. All the three smartphones look pretty much the same except for their size.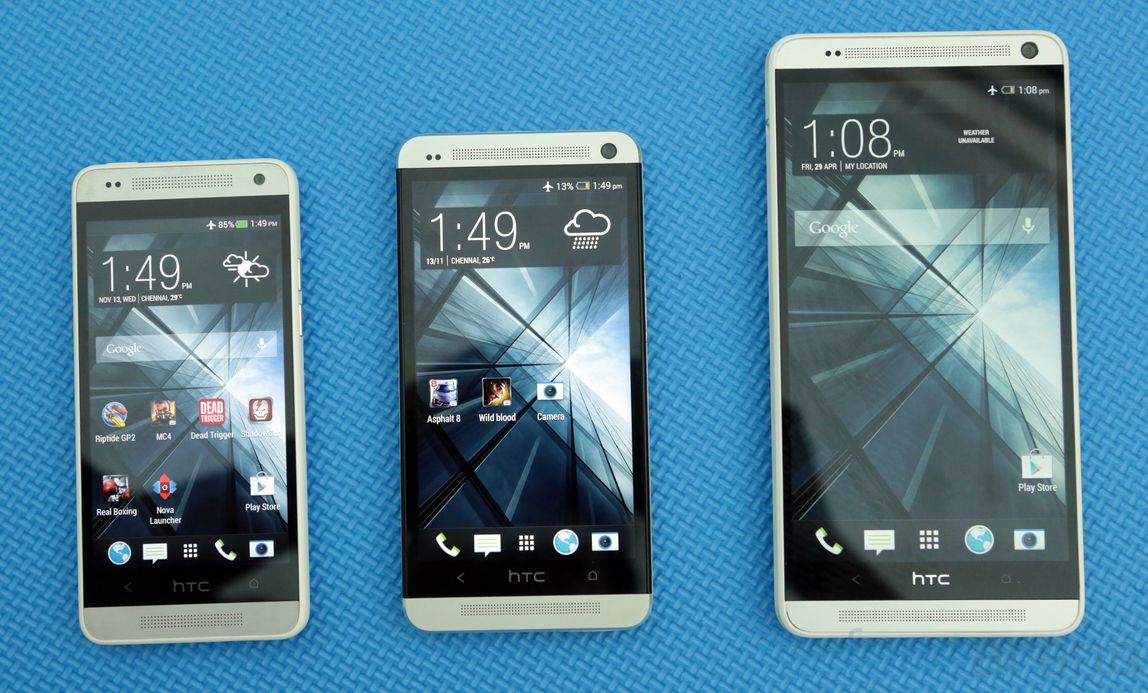 From small to big, the HTC One Mini comes with a 4.3inch HD display and is powered by a dual-core Snapdragon 400 SoC, there is 1GB RAM and 16GB internal storage.
The HTC One which was the first among the three to be announced comes with a 4.7inch Full HD display and is powered by the Snapdragon 600 SoC, has 2GB RAM and 32/64GB internal storage.
The latest device to be announced among the three was HTC One Max. HTC One Max was supposed to be the Galaxy Note competitor, but it has been lost in the crowd. HTC One Max comes with a 5.9inch Full HD display, Snapdragon 600 SoC and 2GB RAM. The internal storage is 16/32GB and it comes with an expandable microSD card slot.
The design language is the same in all the phones. On the front, we have the Boom Surround Stereo speakers above and below the display. The back of the device is subtly curved and it feels quite good in the hand. The choice of Aluminum is just top notch and the build quality just makes the other phones look cheap. All the phones have the same 4MP UltraPixel camera, but only the original and flagship HTC One has OIS.
You can check out the entire photo gallery below.