Nokia World Event, held at Abu Dhabi was probably Nokia's last event and the Finnish company couldn't have said a better good-bye. The event had a lot of devices and the pick of them was Nokia's first phablet – Lumia 1520. Nokia Lumia 1520 is also the first Windows Phone phablet, the first Windows Phone 8 smartphone to feature a quad-core processor and the first Windows Phone device to come with a 1080p display. We, at FoneArena, were present at Abu Dhabi for the event and were able to make a quick hands-on comparison video between the new Lumia 1520 and Galaxy S4 Zoom.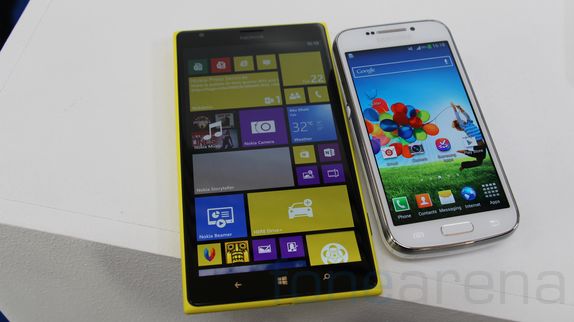 You can check out the video right below.
httpv://www.youtube.com/watch?v=Gijic1Uq2as
Both the phones are completely different. Nokia Lumia 1520 is a phablet while the S4 Zoom is a camera with smartphone capabilities. In terms of build quality, Nokia Lumia 1520 follows the familiar Lumia design language with a polycarbonate matte-finish unibody. Galaxy S4 Zoom is typically a point and shoot camera on the back while on the front, it have a 4.3inch display. In terms of dimensions, because of the large display, Lumia 1520 is wider and taller than the Galaxy S4 Zoom. Because of the huge optical arrangement at the back, width of the Galaxy S4 Zoom is extra-ordinarily bigger than Lumia 1520 and almost all the smartphones. Surprisingly though the weight of these phones is almost same around 209g.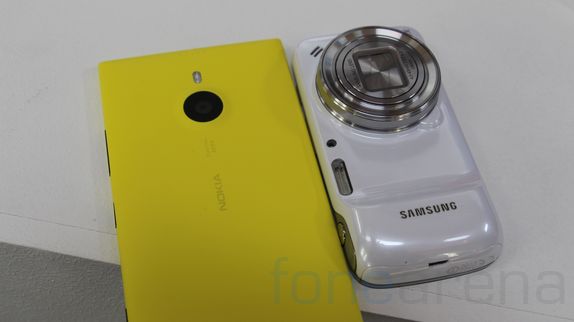 Nokia Lumia 1520 is powered by Snapdragon 800 SoC clocked at 2.2GHz, has 2GB RAM and Adreno 330 GPU while the S4 Zoom is less capable in terms of processing power as it houses a dual-core 1.9GHz processor, 1.5GB RAM and Mali 400 GPU. Nokia Lumia 1520 has 32GB internal storage while the Samsung Galaxy S4 Zoom has just 8GB internal storage and both the phones have a microSD card slot for expansion of internal storage. Camera too is quite different between the two phones as Nokia Lumia 1520 comes with a huge 20MP PureView camera that produces 16MP images and over-sampled 5MP images while Samsung Galaxy S4 Zoom has a 16MP camera with a big optical zoom arrangement. There is a dual-LED flash on Lumia 1520 while Galaxy S4 Zoom comes with a Xenon flash.
What do you think about these devices? Let us know in the comments below.