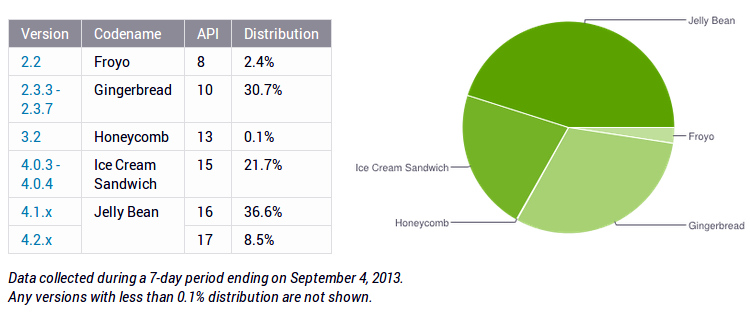 Google has released the Android's Platform Distribution Numbers for the period of August to September 2013. Devices running on Jelly Bean (Android 4.1 and 4.2) has jumped from 40.5% to 45.1%, a 4.6 % jump in a single month. The growth is more compared to last month. Android 4.3 Jelly Bean started rolling out for the Nexus devices and Google Play Editions of the S4 and the HTC One. The Samsung Galaxy Note 3 that was unveiled yesterday would be the first non-Nexus device to launch with Android 4.3 (Jelly Bean) out of the box.
The Samsung Galaxy Note 3 would go on sale in several countries later this month, and Sony has promised that they would roll out Android 4.3 for their devices soon. Samsung Galaxy devices is also rumored to Hope we could see the Android 4.3 in this chart soon. Google announced the Android 4.4 KitKat earlier this week. It is not clear when they plan to release it.
Gingerbread continues to decrease, which has 30.7% share, while the ICS is down to 21.7% from 22.5% last month. The drop in ICS and Gingerbread indicates a steady rise in Jelly Bean. Google's Sundar Pichai recently announced that Android passes 1 billion activations and 1.5 million devices activated daily. This would definitely increase since more people are moving to Android since lot of manufactures are releasing Android 4.2 devices at an affordable price point.