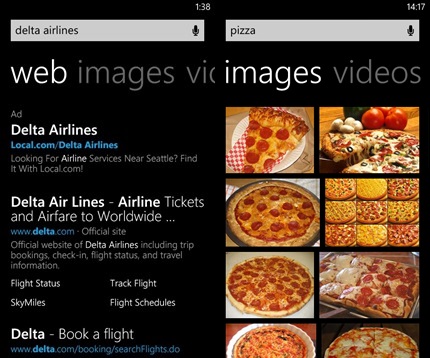 Bing, Microsoft's answer to Google, is the default search app on Windows Phone with a dedicated key. The service received a substantial upgrade with the Windows Phone 8 update that brought panoramic quick access to relevant stories at that point in time. Otherwise the results have been similar since the inception of the OS and that has finally changed, with the new rollout that has started for the Bing Search app in Windows Phone. The new update brings a new layout and new features based on the Bing Neural network that works similar to the Knowledge graph from Google.
Before the update, the Bing search used to be segregated into four categories – web, local, media and shopping but now it's just web, images and video making the priorities of search more streamlined. Lets face it, their telemetrics probably showed that the shopping and local pivots are barely used.
Consolidating and streamlining the views should reduce confusion and help people find what they're looking for more easily.
In the web, contextual search with a prominent first result has been added to make searching a little bit easier. For example, if you search for restaurants in your area, you will be automatically provided with local results and maps in your web tab instead of taking you to "local" like before. Another addition is the inclusion of richer results for popular websites that includes sub links for easier navigation, just like Google.
The images pivot too has been redesigned to show you larger thumbnails of images with auto resize and infinite scrolling. There are also these new "Instant answers" which provide contextual results with richer information than before. This is becoming more and more informative now, you can check from the screenshots below.
Also based on the Neural network is the new "at a glance" info called Snapshot. This was introduced an year back but it has now been spruced up with richer information and in-depth details like show times for movies or even cast details. The new Bing update has started its roll out in the USA and will eventually roll out worldwide, but we are not sure what extent of it will reach India as we already have only a stripped version of Bing. It's already been several years since Windows Phone launched here and Bing is still not feature rich, so you know who to blame. That said, you have more information at the source link below.
Source Windows Blogs