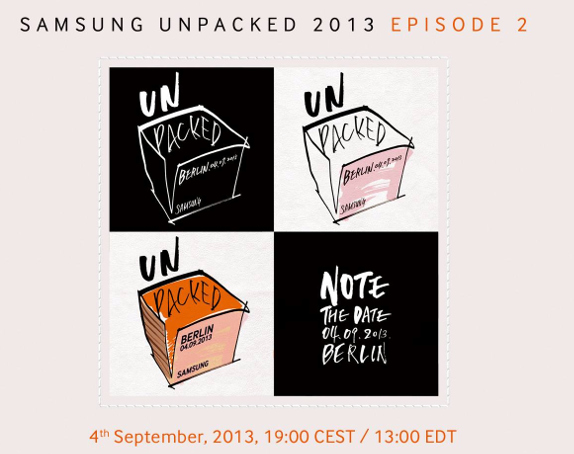 Samsung has just announced the Samsung Unpacked 2013 Episode 2, where the company is expected to unveil the new flagship smartphone, the Galaxy Note 3. Samsung unveiled the Galaxy S4 at the first Unpacked event on March 14th in New York. The Episode 2 would happen in Berlin on September 4th ahead of the IFA. 
Back in March there were reports that the Galaxy Note 3 would launch at IFA next month since all the other Galaxy Note devices were unveiled at IFA. Last week a Korean website revealed that 4th September as the launch date for the Note 3. Even  though the Samsung's Invite doesn't say it as Note 3. It hints that it is the Next Note by mentioning "Note the date". Samsung had launched both the first and second generation Galaxy Note devices at IFAs in 2011 and 2012. So there is a huge expectation for the the Next Note.
According to earlier rumors the Note 3 is expected to come with a 5.7-inch Full HD Super AMOLED, 13MP camera and Android JB OS. It is expected to pack the latest Exynos 5 Octa 5420 and Snapdragon 800 processor based on the region and 3GB of RAM. It is also expected to come with LTE advanced (LTE-A) support in select markets.
The Samsung Unpacked 2013 event is scheduled for 4th September, 2013 in Berlin, Germany at 7:00 PM CEST (10:30 PM IST). The event would be live streamed on Samsung's YouTube channel.