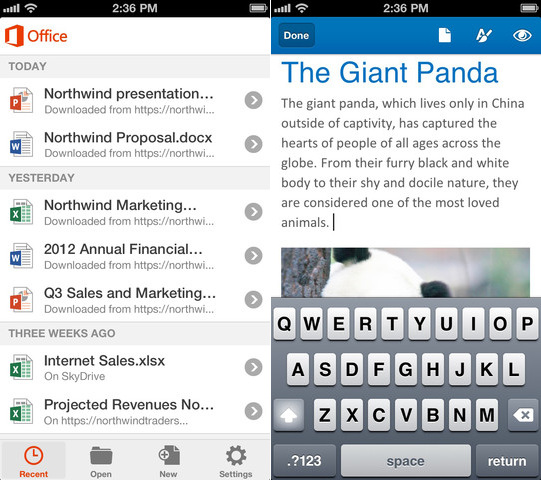 Microsoft has launched the Office Mobile app for iPhone finally. This app is for Office 365 subscribers and the subscribers access, view and edit your Microsoft Word, Microsoft Excel and Microsoft PowerPoint documents from your iPhone. You can also access document stored in the cloud on SkyDrive, SkyDrive Pro, or SharePoint. You can edit and view documents offline but you need to be connected to the internet to save the changes on the cloud.httpv://youtu.be/nDR150tAOkk
Features of Microsoft Office Mobile iPhone
Access Office documents that are stored on SkyDrive, SkyDrive Pro, or SharePoint.
View and edit Office documents attached to email messages.
Word, Excel and PowerPoint have been optimized for the small screen of the iPhone
Word document from SkyDrive or SkyDrive Pro on your phone automatically resumes at the place where you left off reading
The Slide Navigator lets you browse slides faster
Make quick edits to Word, Excel and PowerPoint documents.
Formatting and content remain intact when you edit Word, Excel, or PowerPoint
View and edit recently used documents even while you're offline.
Review comments that have been made in Word and Excel documents on your phone and add your own comments.
Send the document in email or save it to SkyDrive or SharePoint.
Download Microsoft Office Mobile for iPhone (4, 4S, and 5 running iOS 6.1 or later) from the Apple iTunes Store for free. Office 365 subscription is required to use this app.The app is currently available in the U.S App Store only.
[Update: Microsoft has announced that the app would be available international markets next week]