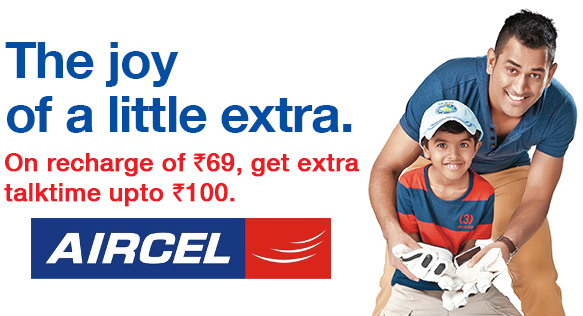 Aircel has launched Extra Recharge pack under its Extra proposition. Through an easy recharge of Rs. 69, this packs offer Full Talk time and an Extra talk time up to Rs. 100 (conditions apply) for the customers. Aircel launched an unique full talk time pack at Rs.164 recently that offers additional Talk Time (Difference between CSK runs and MRP) (Valid for 15 days).
Commenting on the launch, Anupam Vasudev, Chief Marketing Officer, Aircel, said,
We at Aircel constantly strive to provide simple and innovative products & services which are value for money propositions. We understand that it always feels nice when we get something 'Extra' unexpectedly. Therefore, we are delighted to introduce the Extra Recharge, which will give our prepaid subscribers more value for money along with our seamless services.
httpv://www.youtube.com/watch?v=vAeyIwSuwOU
Aircel launched One Nation One Rate and other unique packs including Pocket Buddies, Pocket Internet Games and launched the  Pocket Internet 24 recently.
This new Extra Recharge pack is currently available for pre-paid customers. This pack is not available for Tamil Nadu and Chennai circle. Election of customer for extra talk time will be done through random selection. Validity of the talk time varies based on the circle. Check the full list about the recharge from Aircel website here. This Extra Recharge offer is valid till 14th August 2013 only.