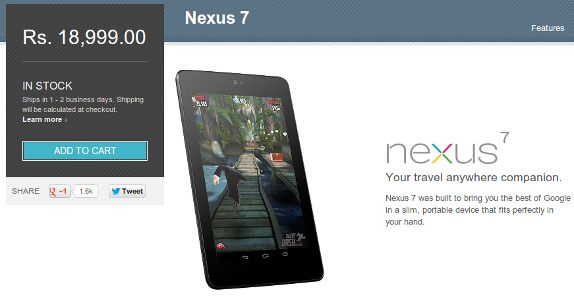 Google Nexus 7 16GB version went on sale in India from the Google Play Store last month at a price tag of Rs. 15,999. Asus launched the 32GB WiFi and 32GB 3G versions of the tablet in India earlier this month along with the 32GB 3G version priced at Rs. 21,999. Google has started selling 32GB WiFi version of the tablet from the official Google Play Store in India. Google unveiled the Nexus 7 last June, and the 3G version with 32GB storage was announced at the Google I/O in October last year.
The 32GB version of the Nexus 7 has similar features as the 16GB version including a 7-inch (1280×800 pixels) IPS display, 1.2 GHz quad-core Nvidia Tegra 3 processor, 1.2MP front-facing camera. It comes with 1 GB RAM, NFC, WiFi 802.11 b/g/n, Bluetooth and a 4325 mAh battery. It got the Android 4.2.2 (Jelly Bean) update recently.
The Google Nexus 7 32GB WiFi version is now available from Google Play Store in India for Rs. 18,999. No sign of the 3G version of the Nexus 7 in the Google Play Store yet. Asus already announced that they would sell the 3G version through Reliance Digital and e-burn stores in India from April 8th.
Source: Google Play