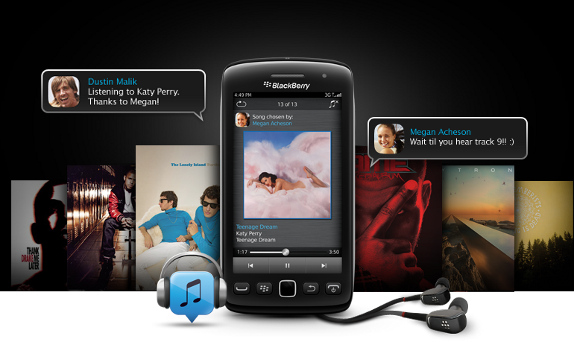 BlackBerry has started sending emails for BBM Music subscribers that BBM Music would be discontinued as of June 2, 2013. BBM Music is BlackBerry's own cloud-based music service in partnership with several music giants Universal Music Group, Sony Music Entertainment, Warner Music Group and EMI. BlackBerry Music was anounced back in August 2011, and it was launched it widely in the US, Canada, and Australia later in November 2011 after several closed beta trials.
BBM Music is a subscription based service, since it would should down in June, BlackBerry has announced that the subscribers would be billed only for April. BBM Music has Music profile and option to play single songs or entire playlists created by friends and also listen to playlist that includes all tracks from your friends. As your BBM contacts stop using the service, songs in your playlists will begin to turn grey and will no longer be available, says BlackBerry in the official email regarding the BBM Music.
It also gives you instructions to remove the app from the BlackBerry device and suggest users to move to Rdio, which is a great alternative to the BBM Music service. It is also offering a free 30 day trial for Rdio. BBM Music did not release for BlackBerry 10 devices. Hope Rdio would release the BlackBerry 10 app soon.
Source: CrackBerry, CrackBerry Forums