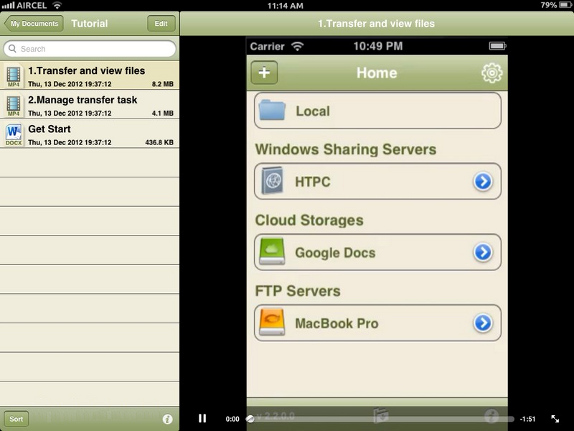 iExplorer HD is not just a file manager, it also lets you manage/view files on your remote servers, acts as a media player, lets you view photos, read books (CHM, ePub, PDF) and offers lots more features. You can also view photos on your PC/NAS and share to friends, edit spreadsheets on your Google Docs and save them as different formats, print any viewable documents. Even though it is costly, the app is much useful productivity app that offers lot of features.
Features of iExplorer HD for iPad

Access files on iPad or Windows Sharing Files/NAS server/FTP Server/Cloud server (WebDAV servers, iDisk, FilesAnywhere, Box, CloudMe, DropBox, Microsoft Live Mesh, SkyDrive, Google Docs)
Transfer files/folders/subfolders between iPad and remote servers
Transfer files with Bluetooth between iOS devices , iPad and PC with USB cable
Manage files on local or remote server (Rename/Delete/Move/Email and more)
Sort files by Name/Size/Date/File Type
Zip & Unzip files on local or NAS server/FTP server, support passcode protected zip/7zip/rar files
Edit text file, Google spreadsheet, download google docs as pdf, Microsoft office document, zip, image, open office document, text files and more
Open files in other apps. Open file from Safari, Mail and other apps.
Stream html/Microsoft office files/keynotes/numbers/pages from NAS/FTP/Cloud servers
Search files in folder/subfolders (support both local and remote servers)
Sync files from NAS/FTP/Cloud server.
View offline files if the server is not reachable
Adjust priorities for transferring file tasks
Print & tweet any viewable documents/ebooks (Printer needs support AirPrint).
4 Skins/Themes for choosing
WiFi storage (HTTP/WebDAV server)
Favorite feature : could add file/folder to favorite list as shortcut
Passcode lock
Download the iExplorer HD for iPad at $4.99 (Rs. 270). You can also get the iExplorer for iPhone separately which offers similar functions.