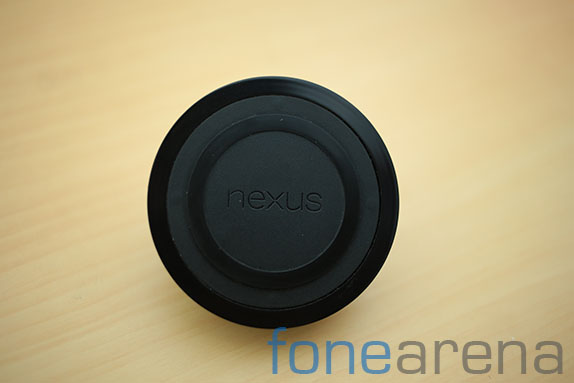 If we remember right, Google launched the Nexus 4 along with a cool Wireless charger called the Charging Orb, but it never arrived until a couple of weeks back, when it finally came up on the Google Play Store. The Nexus 4 Wireless Charger, as it is called, is made by LG, just like the Nexus 4 itself. The device resembles a lot like the Nexus Q cut in half, suggesting Google's influence in its design. We took it for a spin in our labs, and this video below is what happened when we unboxed it and gave a demo –
httpv://www.youtube.com/watch?v=cv26OPKNGmg
The wireless charger comes in a typical Nexus box. Inside the box we have the Wireless Charger, a micro USB cable and a power adapter.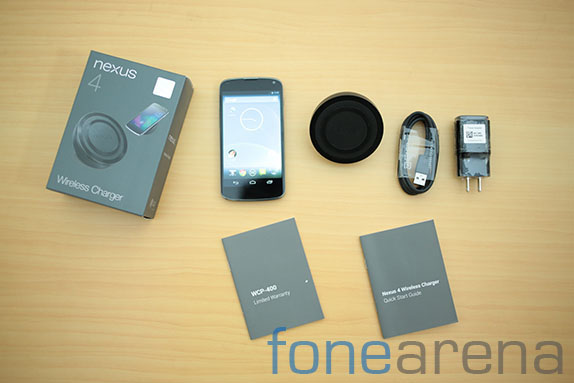 And yeah, there are also the usual bunch of booklets, the user manual and the warranty card with respective information.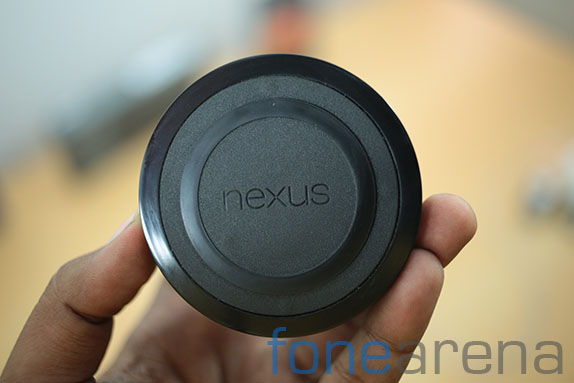 The nicely designed wireless charger, which resembles the Nexus Q cut in half, has a couple of rubberized friction rings on its surface, with the remaining materials based on a soft touch material. The Nexus branding is evident on the face of the charger.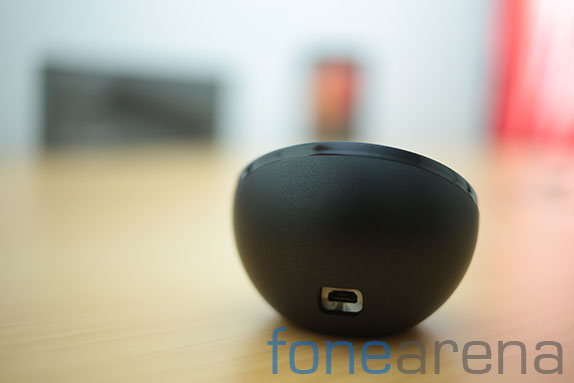 The back of the charger, which is also made of soft touch rubbery material has the micro USB port, for connecting the micro USB cable. The wireless charger hence, is not exactly wireless, with its own power source. It depends on external power for charging the device. However, we would have preferred if it had its own rechargeable battery in there, considering the size of the wireless charger.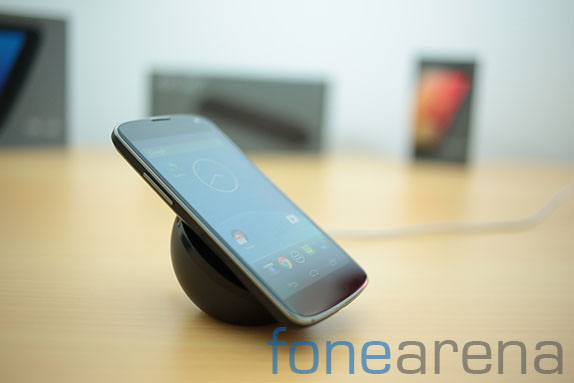 As you can see above, the Nexus 4 sits on the Wireless charger at a comfortable angle. It immediately charges on the slightest contact, and the glass back helps in adding friction to the aforementioned rings. However, after a couple of times of usage, we could find some smudges on the back of the Nexus 4. It is also important to note that the wireless charger attracts dust like anything, so much that we couldn't even wipe it out. Instead, small fibers from the cleaning cloth stuck on to the charger, indicating that the friction rings are not clearly dust proof or will be able to handle contact with other surfaces.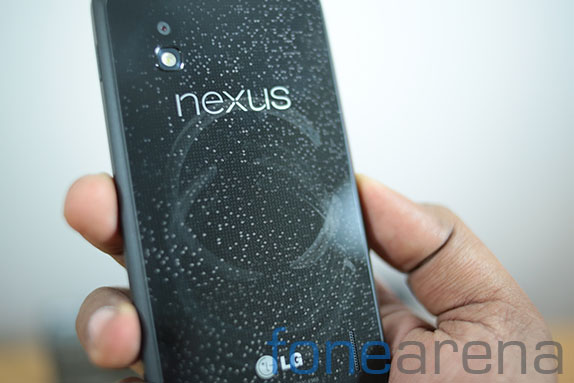 Above image shows you the smudgy effect of the wireless charger.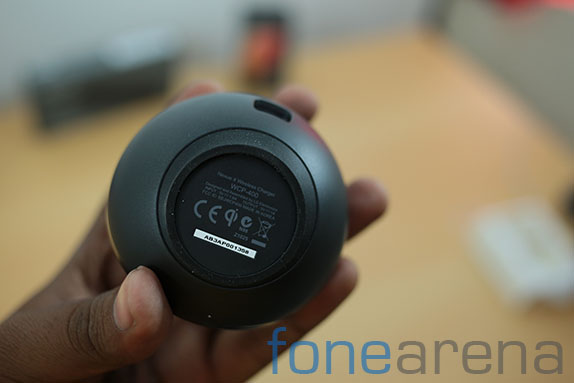 The device is based on the Qi wireless charging standard that is being used in other devices too, like the Nokia Lumia 920/820. Since this is based on a standard, this charger could be used for the upcoming Galaxy S4 too, with a lore more devices for the prospective future. It's clear that a lot of companies are backing the Qi wireless standard, which is a good thing in our opinion. Rather than just letting your device lie on your device, one can probably use this charger. That's the only use case we find with this device.
And that's all for our quick look at the Nexus 4 wireless charger. It's available on the Google Play Store for 60$(Warning – Only supported countries), so if you are looking to pick one up, you know where to go. Or, you could just pick up several other Qi standard Wireless Chargers that are now available on the market. More photos below.