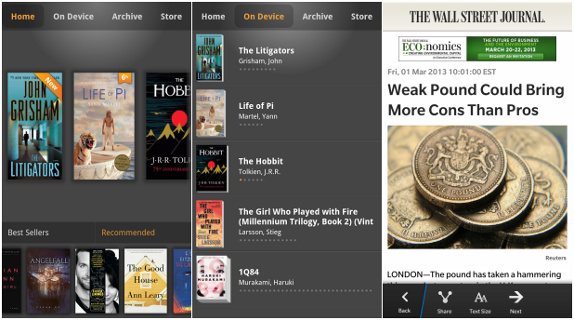 Amazon has launched the Kindle app for the BlackBerry 10 devices. This would read, buy and also sample the books right from your BlackBerry 10 devices. The Wall Street Journal has also released their official app for BlackBerry 10 that offers News, Opinion, Marketplace, Greater New York and more. These apps have all the features available on other BlackBerry devices.
Features of Kindle for BlackBerry 10
Read Free Books—Choose from thousands of free ebooks
Shop for Books—Easily shop for ebooks, including new releases and New York Times Best Sellers.
Use the Built-In Dictionary, Google, and Wikipedia
Sync Your eBooks – Start reading on one device and pick up where you left off on another device.
Sample Books Before You Buy
Choose your preferred font size, screen brightness, background color, and orientation to read your books
Available in English and French
Features of The Wall Street Journal for BlackBerry 10
Articles from Today's Paper
Updated news from Business, Tech, Life and Culture and more throughout the day
Article sharing via email, Facebook and Twitter
Photos of the day, video-on-demand and podcasts
Download Kindle and The Wall Street Journal apps for the BlackBerry 10 for free.