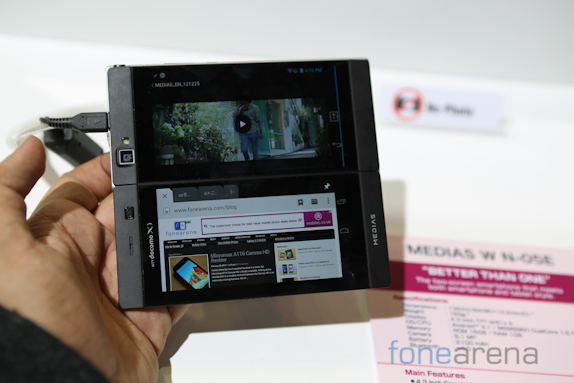 NEC Medias W is one of the best products we had a chance to play with at the Mobile World Congress 2013. It is an Android phone with 2 4.3 inch LCD displays which can be used either together or separately. You can browse 2 websites at the same time , watch a video on one screen while checking your mail on the other. You can actually play the same video on both the screens simultaneously if you place the phone on desk. So two people can watch the video comfortably without having to bump into each other.
You could also use both the displays together like one massive 5.6 inch screen and use it like a phablet. It runs on Android 4.1 JellyBean and is powered by a Qualcomm Snapdragon dual core processor and packs 1GB of RAM.There is a 8.1 Megapixel camera on the back and a 2100 mAh battery on the inside. There is about 16GB of storage onboard
Watch the magic this Android smartphone can do in the kick ass video below.
httpv://www.youtube.com/watch?v=-Wv4OpRbmzI
Check out the photo gallery of the device below.
The NEC Medias W N-05E will be first going on sale NTT DoCoMo in Japan in April this year . The company also had a global prototype on display at the stand which means that we could see it outside Japan too. I would totally buy this phone if NEC sold me one !