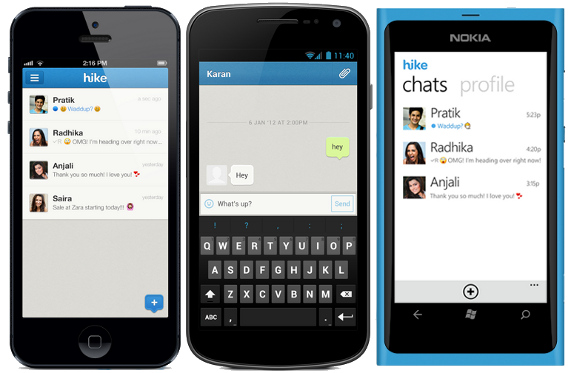 Hike cross-platform messaging app has introduced talk-time rewards. This would offer Rs. 10 for new user signups and Rs. 20 for new invites. The application is available for Android, iPhone, Windows Phone devices including the latest Windows Phone 8 and Nokia S40 devices.
The Hike app has sen several improvements since the launch that brought new features. It went global in over 100 countries back in December, now it is the No. 1 free app in India in the Apple iTunes Store and No. 2 free app globally in Google Play. Even though WhatsApp is popular among younger generation, the Hike app offers several unique features such as option to send SMS to non-Hike users and the app is completely free. If you are new to Hike, here are the features of the app.
Features of Hike messaging app
Chat with any of your friends for free using Hike
Send Hike to non-hike SMS for free within India
Group chat with friends and family, send photos videos and more on hike and also with those who aren't on hike via Free hike SMS
Invite anyone via SMS
Get Sent, delivered, read and typing notifications
Uses your phone number to signup and integrates with your existing phone address book
If you phone is off, hike saves your messages offline until you turn your phone on again
Messages on hike are have 128-bit SSL encryption
Discover friends on hike and add them to your favorites
Tap on a friend's profile picture to enlarge it
Share your location with friends easily
Download Hike for Android, iPhone, Windows Phone and for Nokia S40 devices for free. BlackBerry app would be available soon. Have you tried the Hike app yet?