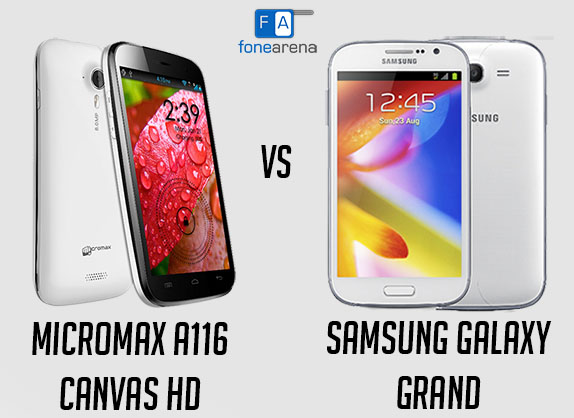 It's been quite exciting for the past few days, especially for the mid range smartphone segment here, in India. All that excitement is largely attested to the launch of two new devices serving the needs of the budget minded Indian Smartphone buyer. Just a day after Micromax launched the A116 canvas HD, Samsung followed suit and revealed the Galaxy grand, with similarities being huge 5 inch screens on both the phones. So, how do they compare with each other on paper? That's exactly what we are going to see right now.
Before you start, we suggest you read out hands on posts with photos and a quick hardware tour in order to wrap your heads around the devices' hardware.
To the comparison then! On paper, both these phones have some similarities as well as major differences. Lets take a look at the similarities first.
Both are Dual SIM phones
Both the phones have a 5 inch display
Both the phones run Android 4.1 Jellybean
Both have a 8 megapixel rear facing camera
Both the phones have a 2100 mAH battery and 1 GB of RAM
…and the similarities end there. Lets take a look at the differences then!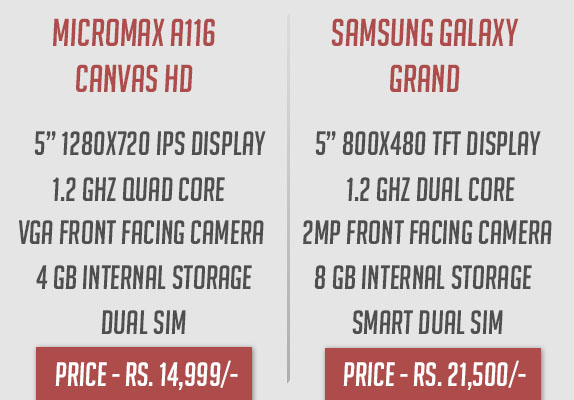 The above differences are what makes both of these devices stand out. The Micromax A116 is certainly impressive at the sub 15k price point which makes the specifications ever more attractive. We are still unaware of in depth specifications of both these devices as both the companies have left us with little to no details at the launch events. So, we leave it up to you decide which one you prefer out of the two.
What are you opinions about these two device, in terms of on paper specs? Do leave them at the comments section below! We'll be bringing the reviews and hands on comparison of both these devices soon!
Note: The prices quoted in the comparison are not final, there might be changes to the final price in the realms of a few hundreds higher or lesser.