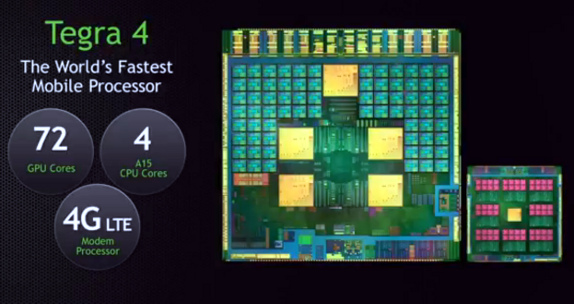 NVIDIA has announced Tegra 4 processor for smartphones and tablets that has 72 GPUs cores and 4 ARM A15 CPU cores at CES 2013. It also comes with an optional 4G LTE chipset. NVIDIA is calling it the fastest mobile processor in the world. The Tegra 4 tablet takes 24 seconds to load 25 unique web pages, twice faster than the Nexus 10 that has a dual-core A15 CPU. The Tegra 4 slide leaked last month revealing the features.
It is developed using a new 28nm manufacturing process, rather than the 40nm manufacturing process in the Tegra 3. This offers less power consumption and better heat dissipation. It is based on the same 4-PLUS-1 technology, but has second-generation battery saver core for low power during standard use. If consumes 45 percent less power than its predecessor, Tegra 3. The PRISM 2 Display technology reduces backlight power while delivering superior visuals. Tegra 4 also has 4K ultra-high-definition video support.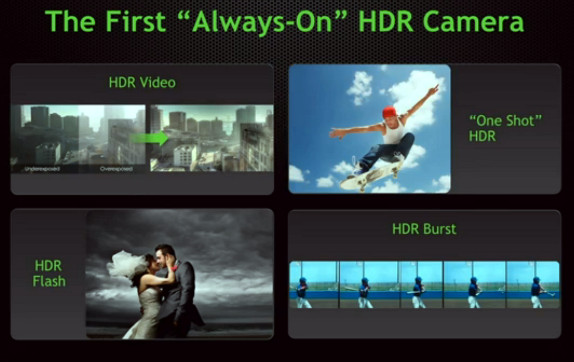 Tegra 3 has HDR feature in the imaging pipeline, where the chip's processor does all the work in real-time making the Always-on HDR Camera possible. It offers HDR videos, HDR One Shot, HDR Flash and HDR Burst shots. It can also capture HDR Panorama shots, strobe motion, 3D reconstruction shots and object tracking.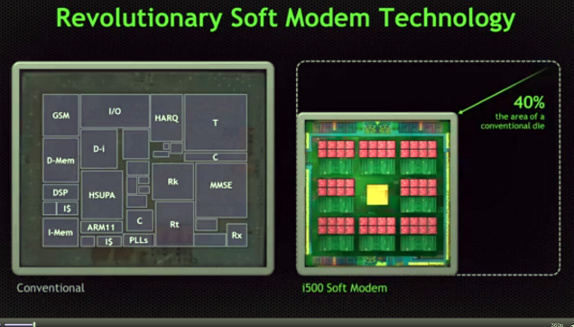 NVDIA has also announced Icera i500 modem, which runs 3G and 4G along with voice and can do 1.2 trillion operations per second. It is 40% smaller than the current Icera modems. It would sample the i500 modem starting this month.