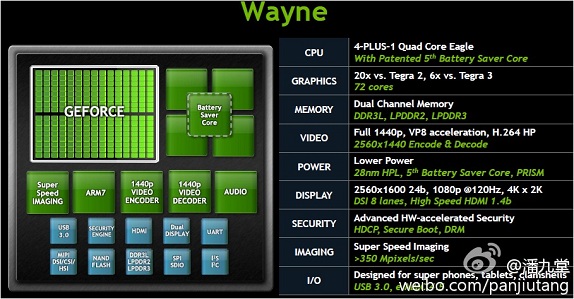 What you see above is a leaked slide from a Nvidia Tegra 4 aka Wayne presentation that appeared on the Chinese social networking site Sina Weibo. The slide reveals some interesting details about the new system on a chip from Nvidia, the apparent successor to the Tegra 3 mobile platform.
Looking into the details from the slide, it seems that the new GPU, codenamed Wayne, in relation to the comic superhero Batman(Remember Tegra 3 was codenamed Kal – El  – a reference to the Superman comics), has 72 GPU cores, a huge jump from 12 cores for the Tegra 3 SoC. The jump in the number of stream processors means that the performance is going to be 6x the previous generation and a massive 20x improvement over Tegra 2, the first Nvdia SoC that made a mark.
Apart from the GPU specifications, it is also nice to note that the video encoding/decoding support has been upped to 1440p and can now drive screen resolutions upto 2560×1600, matching the newest Exynos 4 A15 processor and beating it with higher frequency 120 Hz full HD and 2K/4K display support. Also visible are the new HW accelerated security features which includes support for secure boot, that is required for Windows RT devices. With respect to the cores, it remains the same, meaning there are 4 processing cores and a companion core to reduce load and power. Another obvious rumor regarding Tegra 4 is the fabrication process, which is 28nm, meaning lesser power consumption and better heat dissipation.
Another interesting information from the slide is the support for USB 3.0 interface! Previously on Tegra 3 and most other ARM based SoCs, this was a limitation and glad to see that it's being handled now.
The Nvidia Tegra 4 platform is rumored to release at CES 2013 and we will be bringing all the details to you from ground zero, so stay tuned for more news regarding this!
Source Sina Weibo via MobileGeeks