We all know that iPad actually revived the tablet market, when Microsoft's Tablet PC concept actually backfired. Now Chitika which is a mobile ad network has reported that still the iPad leads by far when it comes to web usage.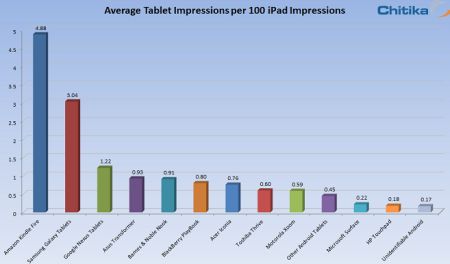 iPad has been popular ever since Apple introduced them in 2010, since then the no. of people using them has only grown, and now with the introduction of iPad Mini, more people who never used a tablet before got the chance to get a shiny new slab from Apple. The web traffic from iPads are so high that the chart above does not even have iPad in it, this is a chart average tablet impressions per 100 iPad impressions. Amazon's Kindle Fire leads the pack with only 4.8 impression per every 100 impression on iPad.
Even Google's plans for dominating over Apple's iPad by releasing low-cost tablets with powerful hardware was a fail and it doesn't even come on top, it falls behind the line of Galaxy Tablets by Samsung. The impressions look to be growing from competitors, but iPads impressions of growth are increasing at a better rate. Can any one release a product which actually beats the iPad? Can Android do its trick on tablets, well according to what we see today, not any time soon.
Via: Mashable