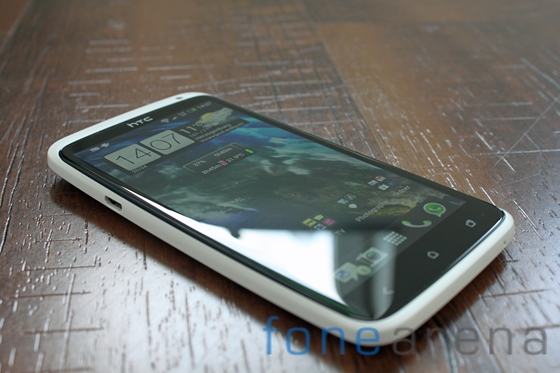 According to a new leak from the industry's leading leakster – Evleaks, HTC is preparing to launch its much awaited successor to the HTC One X and it is supposedly featuring a 4.7 inch full HD 1080p screen like the HTC J Butterfly phone that it launched a while back.  And not only that, the HTC M7 will reportedly feature the updated Sense 5 UX.
With the number of accurate leaks that have been coming from the source called "@EVLeaks" on Twitter, it is not surprising to see one more, yet again. EVleaks had leaked the first full HD 1080p phone from HTC initially and like the other leaks, it turned out to be accurate, so I think we can vouch on EVleaks for industry-wide leaks. Anyways, this is the leaked spec sheet according to the leak –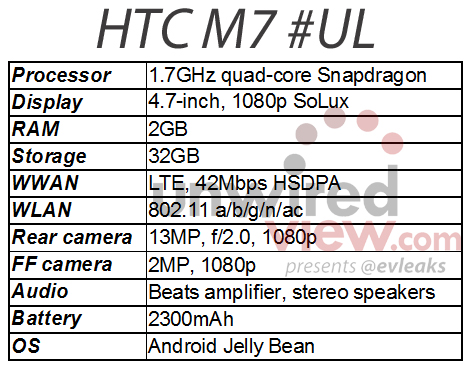 Pretty much similar specs to the HTC J "Butterfly" phone, but with a better 13MP camera and a bigger battery. Information from the leak says that the device, like the One X, will be unveiled at the 2013 Mobile world congress event, which is good news!
Coming to the specs, improving on the One X is obviously the display, which is a 468 PPI 4.7 inch full HD SoLux display, which they think will improve vastly over the SLCD2 display tech which in itself is mighty impressive, and the PPI is way beyond any other smartphone has to offer. The 13 MP unit is supposedly a CCD sensor, now equipped with a faster f2 lens for improved low light performance. The image sensor is apparently dubbed "Cinesensor" and will give more features such as super slow-mo and HDR in video, which is definitely a first for a smartphone. And when it comes to audio, there seems to be a dedicated Beats amplifier like on the HTC 8X. And even more impressive feature is the support for 802.11ac WiFi standards, which is actually brand new and again, a first for any smartphone.
Phew, so far it looks like the most feature packed leak we have ever seen in terms of HTC devices. Hope HTC hits this one out of the park, mainly because they haven't been doing too well for the past three quarters.
Source Unwired View