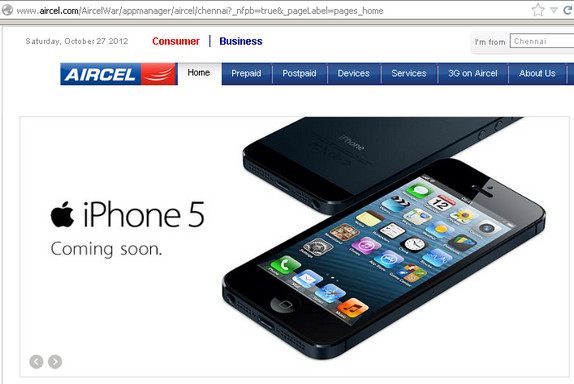 We just told you few hours back that the iPhone 5 was coming to India on November 2nd and also told about the prices at which the iPhone 5 will be selling for in India starting from Rs.45500 for the 16GB model.And now as expected Aircel has starting teasing the iPhone 5 on it's website. The operator has a coming soon banner for the iPhone 5 on its homepage.Aircel along with Airtel were the official launch partners for the iPhone 4S in India last year.This year though Apple has appointed 2 distributors Ingram Micro and Redington for selling the iPhone 5 in India
Just to let you know , the iPhone 5 uses a new type of SIM card called the nanoSIM card which is smaller than the microSIM card used in many phones these days.Operators will start offering nano SIM cards for the iPhone 5 across the country but you can also make one yourself easily.
Now expect other operators to follow suit. And get ready to hear some crazy tariff plans for the iPhone 5.