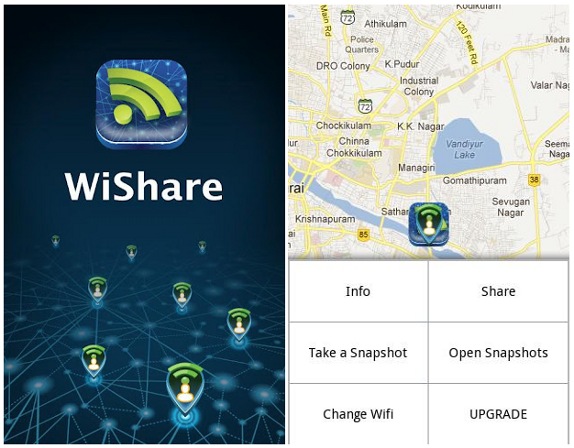 Antara Apps, a Netherland-based company has launched WiShare, a new app for Android smartphones that makes WiFi sharing easy . The WiShare app creates a network connection that lets you share WiFi connection with phone contacts directly from your phone. You can add your friends allowing them to share Wi-Fi connections and create a Co-op throughout their respective cities and travel destinations.
httpv://www.youtube.com/watch?v=BZ0SsJK3YF4
Feature of WiShare app for Android
Use your Wi-Fi to create a network that is secure and share them with the people you want.
Share it with up to 500 contacts
Securely share your Wi-Fi connection
Connect with friends and family via the phone's contact list
Take a snapshot of the map that shows who is connected in advance in the city you vist
Save up to 6 Snapshots of different cities / areas
Shares Wi-Fi connect as a Co-op
Invite, add and block users
Download WiShare app for Android for free from the Google Play Store. It you are one of the first 1000 lucky users, you will get a 90-day trial! for free. After that the app would cost 0.99 EUR per month or per 4.99 EUR a year. The company plans to launch iOS app soon.