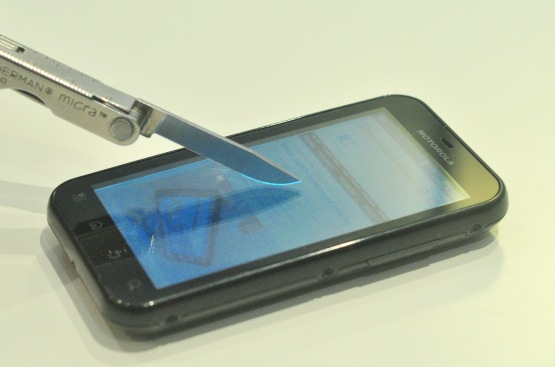 The Motorola DEFY+ is an evolution of the original Motorola DEFY, which won our heart last year as the only complete smartphone that offers some form of physical protection against water, dust and the occasional drop. In a form that doesn't make it differ much from a typical smartphone. Read on to find out if this phone has what it takes to survive in the hands of a nefarious phones reviewer.
Exterior wise, the DEFY+ looks exactly like the original DEFY. In fact not much has changed on the outside, if at all. The look is now almost recognizable Motorola. It is small, light and looks nothing like any rugged phones out there. Not only does it actually look cute, it is also stylish. You would not be embarrass to use this IP67 certified phone in a fancy bar for example as you would, say, a JCB Tradesman.
In addition to the phone itself, included inside the DEFY+'s compact box are a large 1700mAh battery, microUSB cable, 2GB microSDHC card, headphones and USB wall charger. The headset looks rather ordinary and if you are serious about listening to music on the DEFY+, you would be best to invest in a better quality in-ear headphone.
httpv://www.youtube.com/watch?v=GMBKs0mSWYA
The capacitive touchscreen is incredibly sharp, even for a phone released in late 2011. The 3.7″ LCD screen is protected by Gorilla Glass, ensuring that it remains scratch resistant. The resolution of 480 x 858 might not sound much now, but is still enough for a screen this small. While the screen is sharp, the colour rendition is good enough indoors though it does get washed out outdoors. The contrast ratio could also be better. Just above the display lies the proximity and ambient light sensors.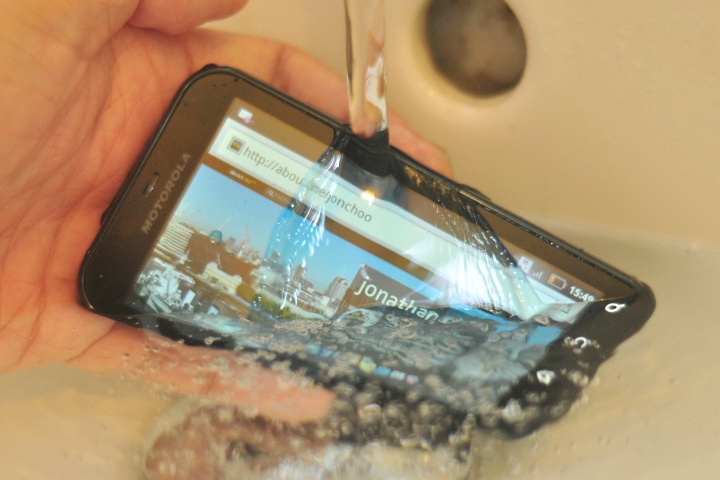 Below the screen are four standard Android buttons. On the top of the DEFY+ you wll find the small power button and 3.5mm headphone jack, protected by a flap. A microUSB port, also protected by a flap, can be found on the left side, while the volume rocker resides on the right port. Behind the battery door sits a rather large 1700mAh battery. The microSDHC and normal size sim card slot are found below the battery.
The 5 Megapixel camera is the same one found on the DEFY, and despite being initially led to believe it was capable to recording 720p video, this isn't true. The maximum supported video recording size is 480p and the DEFY+ supports both fast and slow motion video capture. A single LED flash can be found next to it.
At 118g, the DEFY+ is one of the lightest smartphone around, all thanks to Motorola's decision to use plastic. Built quality has not been compromised despite the liberal use of plastic, and may even be seen as an advantage by some (phone reception wise). Despite being slightly thick, the DEFY+ is a very tiny phone – even smaller than the Lumia 800. This despite having a display that is larger than the one found on the iPhone 4S.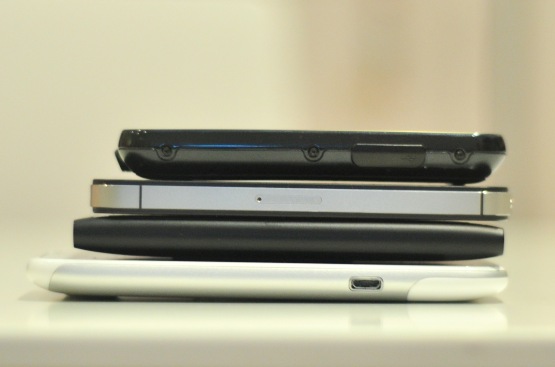 Inside it you will find a single core 1GHz TI OMAP 3620 ARM Cortex A8 processor, 512MB RAM and 1GB ROM. Rounding up the specs, the DEFY+ also includes a A-GPS receiver, quad band GSM, dual band 3G with HSDPA 7.2Mbps support, digital compass, Bluetooth, WiFi 802.11 b/g/n and accelerometer.
With the DEFY+, Motorola has decided to ship it with Android 2.3 Gingerbread, with Motorola's own custom homescreen MOTOBLUR. Unlike other custom homescreens, MOTOBLUR looks and feels closer to the standard Android homescreen. MOTOBLUR integration comes in the form of widgets which includes Social and Status (Twitter, Facebook), Weather, Contacts, RSS and Music Player.
These MOTOBLUR widgets are resizable, but not exactly attractive to look at. Shortcuts can be placed over any of the seven homescreen. It isn't exactly bad, but is still slow when compared to third party replacement launchers like ADW Launcher and LauncherPro.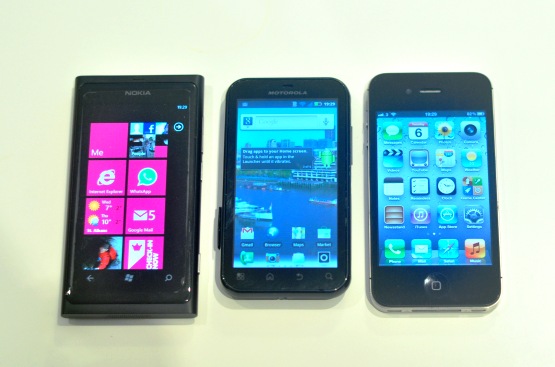 Unfortunately the DEFY+ still feels laggy despite the newer OS and faster processor, though it is still a bit snappier than the original DEFY. It is not known if the DEFY+ will ever receive Ice Cream Sandwich (Android 4.0) as an update, but don't count on it. Still you can always rely on a community of hackers to work on getting ICS onto it.
Because the DEFY+ has a dual microphone set up, in-call quality is good and clear. One of the microphone is used as a noise cancellation mic, allowing it to cancel out background noise. I had not encountered any issues with the reception of the phone.
As the DEFY+ runs on Android Gingerbread, everything you expect from the OS is here. The phonebook for example allows you to link your contacts with their Twitter and Facebook accounts this allowing you an easy way to view your contact's social updates. Not quite as elegant as Windows Phone 7 perhaps, but it works just as well.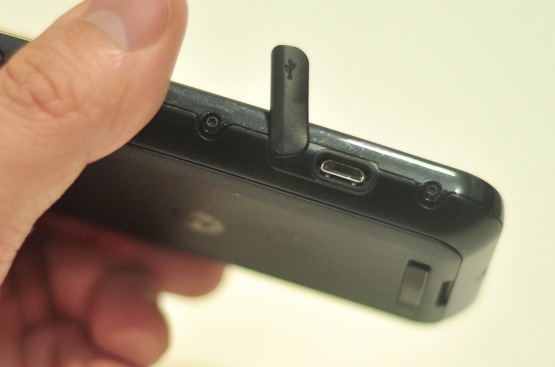 Web browsing is painless, and it should be. Android ships with one of the best mobile web browser, with support for the all singing all dancing, not quite dead yet Adobe Flash 10. Double tap or pinch to zoom is both supported, as are multiple tabs and text reflow.
Google Maps is also included, giving users a nice SatNav package. The built-in GPS receiver supports A-GPS, so is alway quick to pin point our location. Google Maps is now mature enough to be used as a complete SatNav application, but you can always hit the Android Market if you fancy a different kind of mapping.
The 5 Megapixel camera with LED flash won't win any awards here. Picture quality is average at best and with good lighting, you can probably get some decent pictures for web use. Definitely not anything of print quality. Unfortunately because the DEFY+ does not have a physical camera shutter button, don't expect to be able to use it underwater. Water interferes with the capacitive touchscreen making it impossible to use for still photography, unless a timer is involved.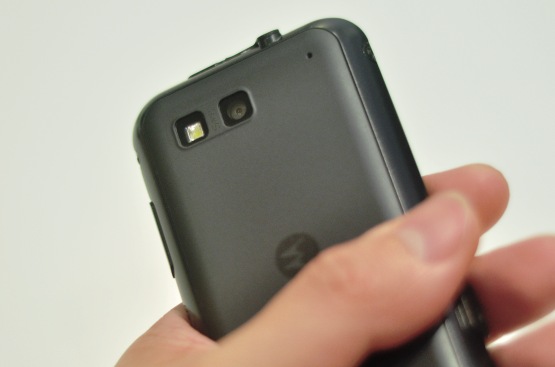 The camera unfortunately would only record at the maximum resolution of 480p – this is 2010 territory. Video quality is decent for YouTube purposes but it does not support autofocus, so beware of that. Panning quickly will introduce artifacts but that's expected with almost every modern digital camera. On the plus side, it is perfectly possible to video underwater. Just start the recording in a dry area first.
Never mind the specs and what it can or can't do, is the DEFY+ rugged enough to survive? Well there's nothing more fun than to abuse a phone that claims to be, so I went to work on that. The first test involved submerging it in water, which the DEFY+ passed. After all it is rated to be able to survive up to 30 minutes at depths of up to 1 metre. The next test involved testing it's dust proof claims. In this case, flour was my only weapon. As far as I know, no flour managed to penetrate the defense.
Finally, the Gorilla Glass test. This was a test I did not believe it will pass, as I've had phones with Gorilla Glass in the past and all of them has somehow got scratched. Using a good old fashion pen knife, I worked my magic – Dexter style. There were no lasting damages to the screen. Obviously with different pressure one could make an impact. Just remember that Gorilla Glass is scratch resistant, not scratch proof or shatter proof (nothing is).
Well, here's a video of the DEFY+ getting abused by yours truly:
httpv://www.youtube.com/watch?v=UFVSDsTKojM
The DEFY+ costs around £220 in the UK, making it slightly cheaper than the HTC Desire S. Both phones offer similar specs, with the Desire S slightly edging out the DEFY+ in terms of processor specifications and camera performance. With this in mind, it is difficult to argue that the DEFY+ doesn't offer value for money.  It is after all the only consumer Android smartphone series on the market that is IP67 certified. While it isn't a top performer, the DEFY+ is the perfect phone for people seeking a semi-rugged mobile device that not only looks good, but also expected to perform in the wild. Just don't expect it to be a screamer and you are all good.
Plus
+ Small and stylish
+ Water, scratch and dust resistant
+ Great battery life
Minus
– MOTOBLUR
– Very poor camera