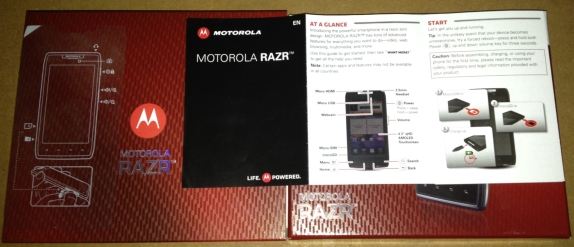 When I was expecting the Motorola RAZR to arrive today , I had a question in my mind. Does this phone use a microSIM card. The Motorola DROID RAZR for Verizon uses the smaller SIM card but there was no mention about it in the Europe / Asia product pages. To my surprise when I opened the box earlier today, I noticed that the RAZR had a flap which covered the microSIM card slot and the microSD memory card slot.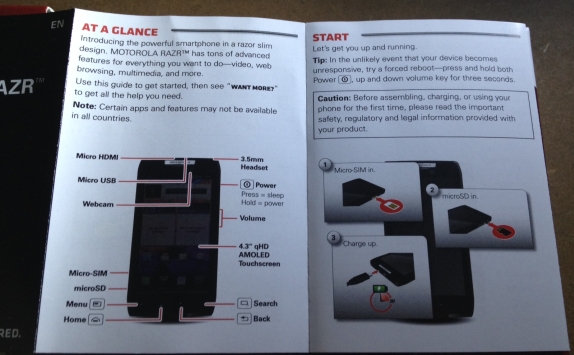 For a device which is just 7.1 mm thin except near the camera, using this smaller version of the SIM card seems like a good choice. The phone had a sticker on top indicating the various buttons and ports. Also the getting started guide indicates the location of the SIM card slot and the right way to get a microSIM inside the device. The Motorola RAZR might be the first Android phone to sport such a SIM card slot which was first adopted by Apple in the iPad v1 and in subsequent devices such as iPhone 4 , iPad 2 and iPhone 4S. Nokia launched the N9 which uses the same type of  SIMcard. Nokia has also launched it's Windows Phones – Lumia 800 and Lumia 710 which follow the same standard.
Here is the location of the flap on the Motorola Razr which exposes the underlying slots.
Airtel is offering these type of SIM cards and so does Tata Docomo. Aircel , Vodafone and BSNL also offer a microSIM card to customers on request. Recently when I had trouble getting the iPhone 4S working in India , I had a lot of trouble getting one of these. None of the operators were interested in offering a factory cut microSIM, but offered to chop them down instead.
With 3 big names in the mobile handset space adopting the standard , more and more new handsets will use this format of SIM card forcing operators to support them in a better way. Have you used a microSIM ? If yes in which device ?