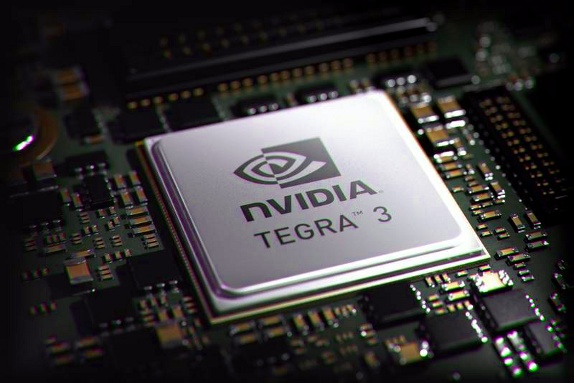 NVIDIA has unveiled the world's first Quad-Core Tegra 3 processor for tablets and mobile phones. This is said to offer PC-class performance levels, better battery life and better mobile experiences (Better web experience, faster applications and multitasking) in tablets and mobile phones.This was previously named, Project Kal-El that was confirmed by the Nvidia CEO in AsiaD last month.
The Tegra 3 processor has 12-core GeForce GPU that would offer 3x the graphics performance of Tegra 2, and up to 61 percent lower power consumption that would offer 12 hours of battery life for HD video playback. This is based on Variable SMP (vSMP) Multi-Core CPU Architecture for Low Power and High Performance. This is designed to use less power while running in four cores than dual-core processors.
It shuts down its 4 cores while performing tasks that require less power consumption like, music, playing back video or updating background data and uses its companion core. It switches to the cores from the companion cores while performing heavy tasks like web browsing, multitasking and gaming.
It offers full game-controller support that would let the consumers to play games on their tablet or super phone, or connect to big screen HDTVs for a truly immersive experience and offers 3D Vision technology and automatically converts OpenGL applications to stereo 3D, so consumers can experience 3D on a big screen 3D TV (via HDMI 1.4).
httpv://www.youtube.com/watch?v=N11AYQkr5Zs
40 Tegra games are expected to be available by the end of 2011 and over 15 Tegra 3 games are under development for Tegra Zone. The Tegra 3 processor is in production and it is expected to be available in December 2011 starting with the Asus Eee Pad Transformer Prime with more devices in future. Developers can download Tegra 3 developer's kit now.