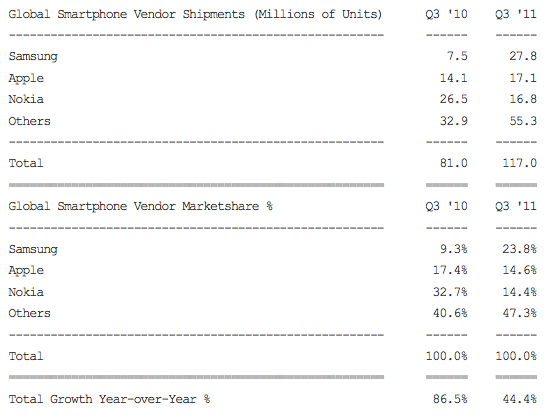 In a new report published by Strategy Analytics, Samsung have snatched the top spot in the global smartphone market, shipping 27.8 million smartphones in the last quarter.
That's nearly 20 million more than they shipped just one year ago, with the company showing dramatic growth at the expense of its two biggest competitors, Apple and Nokia. The figure is good for a 23.8% share in the global market for the past quarter, compared with 14.6% for Apple and 14.4% for Nokia.
Apple may yet retake the top spot however, as these figures don't include the launch weekend of the iPhone 4S, which saw sales of over 4 million units in just three days. The new phone has revitalised Apple, even in the face of growing Android competition.
Nokia will also looking to fight back in the last quarter of the year, with its stable of Windows phones to soon be available. The Lumia 800 and Lumia 710, Nokia's first Windows phones, have been critically well received and should sell well. The company is also expected to boost its fortunes with the launch of its feature phone line Asha.
Samsung won't be resting on its laurels either, though. The company is expected to keep up the pace with an extremely busy final quarter, with two of its biggest smartphones – the Galaxy Note and the Galaxy Nexus – to be release early in November.
There are also multiple Samsung-Apple lawsuits in progress, and the result of these may also shape the proceedings. All in all, expect a tumultuous fight in the final quarter of the year, as the big players slug it out in a crowded market.
This article was written by William Judd. William writes for Mobile Fun, the UK's leading online retailer of the Kindle cover, including the new Kindle cover and the Kindle cover with light.