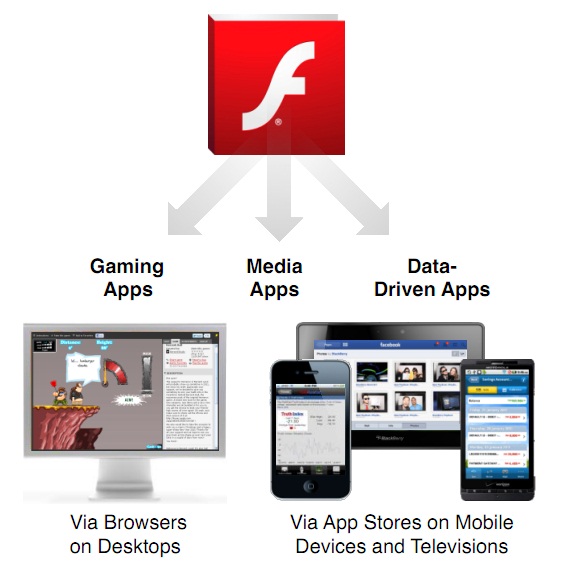 Adobe Systems has announced Adobe Flash Player 11 and Adobe AIR 3 software that would enable the users to experience 3D games, premium video content and apps across the major mobile platforms such as Android, iPhone, iPad and BlackBerry PlayBook. This would also allow the developers to develop an app with the mix of Flash, HTML5 and native code to provide a powerful user experience.
Features of Adobe Flash Player 11 and AIR 3 for Mobile
Accelerated 2D and 3D capabilities for mobile platforms (In the pre-release)
The native application support would let the developers to deeply integrate a software into applications and access hardware APIs like vibration control, magnetometers, light sensors, dual screens and Near Field Communications (NFC)
Simplified installation of apps with the Adobe AIR for Android, similar to iOS and simplified app version management process and testing
Interactive and collaborative applications across devices and distribution channels such as Politifact Mobile app for iPhone, Android and BlackBerry that uses Adobe Flash and AIR
Adobe Flash Access 3 offers complete content protection for the premium video content delivered to the mobile platforms.
Offers HD Video quality on Apple iOS devices using H.264 hardware decoding.
The Adobe Flash Player 11 and AIR 3 for PCs would be available in early October, but you could get the release candidates from 
Adobe Labs
if you want to give it a try. The Pre-release versions for mobile platforms would be available soon with the production release in near future.