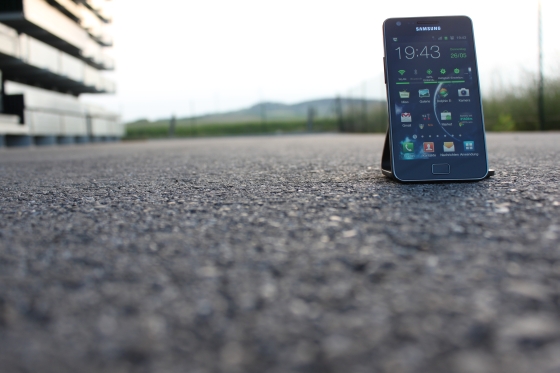 Samsung Electronics has just made an announcement that it's investing USD 70 million  in the Noida mobile manufacturing facility. Seems like India is one of the top 3 mobile markets for Samsung globally.This facility in Noida is Samsung's 6th manufacturing unit outside Korea and employs over 4000 people. This facility in Noida is also capable of handling TVs , Refrigerators , ACs and Washing Machines in addition to mobile phones. Surprisingly Samsung also has a manufacturing facility in Sriperumbudur , Chennai where Nokia also has a pretty big factory. Press Release after the break .

Press Release
Samsung strengthens domestic production of Mobile Phones at its Noida Facility

Enhances the production capacity of the Mobile manufacturing unit
Over US$ 70 Million investments brought in

New Delhi , September 15, 2011 : Samsung Electronics Co. Ltd, a leading mobile phone provider, today announced the strengthening of its mobile manufacturing operations in the country by stepping up its investments in the mobile manufacturing facility at Noida .The Company has brought in investments of over US$ 70 million towards tripling the manufacturing capacity of its mobile manufacturing unit at Noida .

Announcing the Company's fresh investments into the mobile manufacturing facility , stated Mr J S Shin, President & CEO , Samsung South West Asia stated, "India is one of the top 3 mobile markets for Samsung in the world and we stand committed to this market and our Indian consumers. Given the strong potential of this market, we are working on consistently strengthening our presence in the country through a very innovative mobile portfolio as well as enhanced manufacturing and R&D operations."

The Samsung mobile manufacturing unit at Noida is Samsung's sixth overseas manufacturing unit in the world. The Company is manufacturing multimedia, dual sim and touchcreen models at the Noida facility. Samsung has installed highly advanced and hi speed SMD machines at the mobile unit . Beyond the installation of new , advanced , high speed production lines for increasing the manufacturing capacity, the Company has also recruited another 1500 employees at the Mobile manufacturing unit. With the manufacturing capacity increase at the Mobile Plant, the Company's Noida manufacturing complex now provides employment to 4000 employees.

"I think it is a fitting tribute to the manufacturing prowess of our Indian employees that we are looking at making our Indian manufacturing centers as global manufacturing hubs for the region."states           Mr Shin. The Noida Complex also houses high tech , advanced manufacturing facilities for Flat Panel TVs and Flat TVs , Refrigerators , Airconditioners and Washing machines apart from mobiles .The Company's second manufacturing Complex in the country is located at Sriperumbudur , near Chennai .

Samsung India is operating two R&D Centers at Noida and Bangalore to support its business operations in the country. Samsung India Software Operations , the Bangalore R&D Center develops Protocol and Platform software for Mobiles . Indian R&D Engineers work with their global counter parts to develop leading edge solutions and products for Samsung, in areas such as 4G and LTE. In fact , this R&D Center is Samsung's largest overseas R&D Center for mobiles. As the Indian market grows, the Samsung India R&D is developing localized solutions for handsets that are customized to the Indian market requirements.

Samsung's handset portfolio in the country includes multimedia phones comprising of the Hero and Metro series, dual sim handsets , touchscreen mobiles  and Smartphones including the 'bada' based Wave series and the Android based Galaxy series of handsets . Samsung also offers a portfolio of two tablets, the Galaxy tab (P1000) and the recently introduced GALAXY Tab 750 .